India Just Made History and Elected Its First Transgender Mayor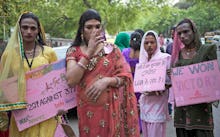 The news: On Sunday, Madhu Bai Kinnar defeated her opponent by more than 4,500 votes to become India's first transgender mayor.
Kinnar, 35, was declared the winner of the municipal election in Raigarh, a city in central India. She ran as an independent candidate, while her opponent was a member of Prime Minister Narendra Modi's Bharatiya Janata Party.
Kinnar is a member of the Dalit caste — formerly known as untouchables — and had been earning money by singing and dancing on trains, according to the Guardian. However, she gave up that life and began campaigning when calls were made for her to run for office.
"People have shown faith in me," Kinnar said in the wake of her victory, per the Guardian. "I consider this win as love and blessings of people for me. I'll put in my best efforts to accomplish their dreams."
While many rightfully saw Kinnar's triumph as a groundbreaking one, not everyone did. The Advocate reports that some saw it as a loss for Modi's party, rather than as Kinnar's achievement.
"There was no Modi wave in Raigarh this time," said Raigarh district Congress President Narendra Negi. "People of Raigarh were fed up with the corruption of BJP, hence they voted for Madhu. It is not Madhu Kinnar's victory, but it's a loss of BJP."
A bumpy road: India's path to LGBT acceptance has experienced its fair share of ups and downs. In April, the country's Supreme Court officially recognized transgender people as a "third gender." The court also ordered the government to protect the freedoms and rights of transgender people, as well as provide support mechanisms like those given to other minority groups.
In August, Padmini Prakash read a news item on Indian Independence Day, thereby becoming the country's first transgender news anchor. Her network's chairman, GKS Selvakumar, offered his endorsement: "We are supportive of Padmini because she is very hard-working," he told the Times of India. "After initial trials, we were convinced that she had the potential to be an excellent news anchor."
But there have been setbacks. In December 2013, the Supreme Court of India overturned a previous ban on a section of the Indian Penal Code that ostensibly criminalizes homosexual acts. Many decried the ruling, from the Indian press to the New York Times editorial board.
Still, Kinnar's victory presents a clear step forward, and demonstrates how quickly attitudes can shift once the law — and the public — steps in. 
"It was the public support that encouraged me to enter the poll fray for the first time," Kinnar told reporters after her victory. "Because of their support only, I emerged as the winner."