13 Albums That Prove 2015 Will Be a Way Better Year for Music Than 2014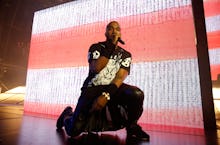 One of the reasons the year was so slight is that some of music's most trusted and beloved figures took the year off. But the upside is that 2015 is looking to be an incredible year for music. Here are 13 forthcoming records that will prove it'll be one to remember.
As far as music went in 2014, it was an abomination. Our taste was in the tank — the most streamed song on Spotify was Iggy Azalea's "Fancy" and the most streamed artist was Eminem. Meanwhile, the music industry used Big Data to churn out an infinity of popular songs that all sound the same. Beats headphones turned many hip-hop music videos into commercials while another company began splicing advertisements into old music videos. Truly great albums were few, far between and frequently snubbed.
Surf by Donnie Trumpet & the Social Experiment
Why it matters: Though Surf is being billed as a Donnie Trumpet record, the Social Experiment is the band fronted by Chance the Rapper, and Surf will be his first full-length release since mid-2013's Acid Rap. Given the 21-year-old's late penchant for online singles — he's released five since 2013 — it could be his last for a while. He told Billboard in October 2014 that because he isn't signed and therefore doesn't have to release full-length at any given time, he doesn't feel inclined to. Chance has already proven himself to be one of the most soulful and inventive rappers in the game. This album is sure to push the genre in exciting directions.
When it's due: Any day now. Chance said it would be out by the end of 2014, which obviously didn't happen — another product of a lack of label pressure.
Untitled by Kanye West
Why it matters: He's West — arguably the most talked about and vital artist in modern music. Every album he's released has rivaled the last and started its own genre. First, he pioneered the soul sound; then, he popularized backpack rap; then, he took a complete left-turn into hyperorchestrated beats and the creative use of auto-tune; and then he made the confrontational, intensely divisive Yeezus. This new album will contain the above Paul McCartney collaboration, a powerfully emotional song. Co-writer Malik Yusef says it sounds "like a pair of Timberlands," which sounds nice and slightly less abrasive than his last.
When it's due: Any day now. West first alluded to the album dropping in fall 2014, before hosting a listening party for it in September. He also gave Seth Rogen an unsolicited rap-through in a limo in December, and, of course, released that McCartney track on New Year's Day. Knowing Ye, he probably won't give the album a proper release date so much as drop it at the most dramatic time. Valentine's Day, maybe, as a gift to his wife, Kim Kardashian? To all of us?
Strangers to Ourselves by Modest Mouse 
Why it matters: Strangers will be Modest Mouse's first record in a half-decade — they've been working so hard and for so long on it that they canceled a tour to finish it. That was, by the way, in 2013. Like West, they've never released a disappointing album and seem unlikely to start with an effort that took so much time to make. It also matters because Modest Mouse is still one of the most unique and foundational bands to emerge from indie rock in the last few decades.
When it's due: March 3
No Cities to Love by Sleater-Kinney
Why it matters: They've been called the best band in the world multiple times and are certainly the best thing to come out of the Northwest since Nirvana. Birthed in 1994 amid the ashes of Olympia's revolutionary riot grrrl and queercore scenes, Sleater-Kinney announced in October 2014 that they'd be ending their near-decade-long hiatus with a tour and an eighth LP that's already complete. Given lead guitarist Carrie Brownstein's newfound indie darling status as the co-creator and co-star of Portlandia, this album is primed to enjoy a bigger reception than their previous ones. To add to the excitement, Brownstein told NPR that she and singer Corin Tucker wrote the album in the style of their first record. Prepare for marathon think pieces.
When it's due: Jan. 20
B4.Da.$$ by Joey Bada$$ 
Why it matters: Joey Bada$$ has been lauded as Brooklyn's boy wonder since age 17, but B4.Da.$$, to be released on his 20th birthday, will be the rapper's first LP-proper. Coincidentally, he's also having a big week in the press: A photo of teen-in-chief Malia Obama wearing one of his crew's T-shirts surfaced online (awesome), and the rapper allegedly popped a security guard in the beak for trying to keep him off stage at an Australian music festival last weekend (double awesome).
When it's due: Jan. 20
Untitled [Maybe 25?] by Adele
Why it matters: It's been four years since Adele broke, revived, re-broke and then shattered our collective hearts — in that order — on her star-making record. So powerful was the album that its tear-jerking powers were memorialized in a Saturay Night Live sketch. Adele's new album will be a massive musical event.
When it's due: Who knows? On the eve of her 26th birthday in 2014, Adele tweeted some cryptic mumbo-jumbo about "bye bye 25... see you again later in the year," suggesting that maybe she'd release a hotly anticipated LP-3 called 25, in the style of LPs-1 and -2 19 and 21, before year's end. But instead, she did nothing, and there is still no hotly anticipated LP-3 called 25. Quit playing games with our hearts, 'Dele.
Untitled by Kendrick Lamar
Why it matters: Lamar isn't as guilty of holding out on us as Adele is; the Compton, California, rapper's major label debut, good kid, m.A.A.d city came out in 2012, and he's at least shared a couple new tracks from its followup ("i" in September and an untitled track, above, during his series-ending visit to the Colbert Report last month). But all the same, this album has been eagerly awaited for years. It's the record that could truly seal Lamar's status as the leader of the West Coast hip-hop scene.
When it's due: Unclear. Like many on this list, Lamar last year alluded to his album dropping before 2015.
Tetsuo & Youth by Lupe Fiasco
Why it matters: Tetsuo is the record the world didn't want made. Originally announced nearly two years ago at the Grammys, Atlantic Records allegedly delayed its release because Fiasco wouldn't give it a pop single. In October 2014, the rapper tweeted about the ordeal. Hacker group Anonymous got involved, as they do, and threatened to launch DDOS attacks on Atlantic, at which point — due to the threats or otherwise — the label finally tweeted out a release date for the record. The music, for its part, will apparently focus less on politics than Fiasco's previous releases and more on his childhood in a rough part of Chicago's West Side. Fiasco has been something of a difficult figure in the hip-hop world — though he had an immensely promising start with Food & Liquor in 2006, he quickly became disillusioned with the industry's emphasis on a poppy sound. Hopefully this album is his chance to strike back.
When it's due: Jan. 20 — but keep your fingers crossed.
Untitled by Björk
Why it matters: The Icelandic singer is working on her follow-up to 2011's Biophilia with Arca, the Venezuelan producer behind four lurching Yeezus tracks including "I'm in It" and "Send it Up." All that darkness mixed with all Björk's weirdness can only mean a seriously eerie record. It may not be a hit, but it's sure to be an artistic triumph.
When it's due: TBA
Views From the 6 by Drake
Why it matters: After hackers got ahold of three tracks from poor Drake's mysteriously titled and previously well-guarded new album Views From the 6 in October 2014, the rapper one-upped the scofflaws and released them himself. Aside from that, we still know nothing about Views, but the tracks are solid. Thank you, Drake, for refusing to negotiate with cyber-terrorists. This album should be as big a deal as his last release, Take Care.
When it's due: TBA, but Drake does previse on "0/100" that he and others "already got spring 2015 poppin'." So, you know, it's coming out then.
Untitled by Grimes
Why it matters: After a year spent fielding criticism from fans for the above track, "Go," (written for and rejected by Rihanna) and for refusing to do the Ice Bucket Challenge (because of the drought in her current home base California and the ALS Association funding animal testing), the Canadian DJ scrapped a year's worth of material that was meant to follow up 2012's beloved Visions because "it sucked." The silver lining, of course, is that whatever Grimes churns out next will be better than the album we never heard. And Grimes' best is sure to be seriously good.
When it's due: This year. Hopefully.
Untitled by Frank Ocean
Why it matters: We might know less about Ocean's follow-up to Channel Orange than any other album on this list. He released a bit of music and lyrics on his Tumblr around Thanksgiving (above), but other than that, all that's been confirmed is he's working with a handful of hotshot producers including West/Nicki Minaj/Drake collaborator Hit-Boy. That said, unless Ocean has somehow tarnished his voice — unlikely, given the aforementioned clip — the album can do little wrong.
When it's due: TBA
Headroom by Hop Along
Why it matters: After two-plus years toiling in near-criminal underappreciation for their full-length debut Get Disowned, this genre-bending Philly quartet signed with Nebraska label Saddle Creek last fall and entered the studio with John Agnello, the indie-rock whisperer between several Dinosaur Junior records and Kurt Vile's Wakin on a Pretty Daze. Headroom will by no means outsell whatever monster West drops, but the band certainly has the mid-level label support they need to enter the popular indie-rock arena.
When it's due: Spring