This Brilliant Artist Is Recording Her Next Album in a Completely Unprecedented Way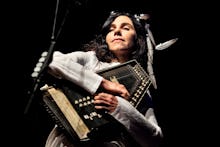 In 2013 and 2014, artists like Beyoncé completely changed how we release music. In 2015, PJ Harvey is going to change how we produce it.
The beloved indie musician has decided to record her next album in full public view in a custom studio built inside the Somerset House, a museum and cultural forum in London. The walls of the studio will be one-way glass, allowing visitors to watch the musician and her production team as if they were a "mutating, multi-dimensional sound sculpture." 
As the Guardian reports, there is "no precedent for a recording artist of Harvey's stature to open themselves up in this way."
The move takes the music industry's trend of creative release strategies into new territory, by applying it to the making of the music itself. And it demystifies one of the most secretive and magical processes of music: the creation of an album in-studio. Fans show a huge appetite for stories of inspired hijinks taking place inside the studio or behind-the-scenes footage of an album's creation. But they've never before witnessed the recording process in real time.
"I want 'Recording in Progress' to operate as if we're an exhibition in a gallery," Harvey said of the project, as reported by Pitchfork. "I hope visitors will be able to experience the flow and energy of the recording process."
That "flow" may not be pretty, as Harvey's collaborators are first to admit.
"It will be warts and all," said Michael Morris, the co-director of Artangel, which is helping Harvey create the exhibit. "There will be some visitors who experience longueurs, the tuning-up of a bass guitar, the integration of a horn section. There will others there when she happens to run through a couple of songs from start to finish. It is very much a lottery."
This heavily visual recording experiment compliments PJ Harvey's writing style, seen since her first album, Dry, in 1992. But wildly innovative projects like these are in her artistic DNA. In 2011, Harvey released a full visual album for Let England Shake, long before Beyoncé brought that form into the mainstream with her self-titled opus. Each of the 12 short films, produced by award-winning photographer Seamus Murphy, magnifies the themes of its song in a powerful way. The anti-war protest anthem "The Words That Maketh Murder," for instance, intersperses shots of bloody bodies and young soldiers cleaning their uniforms with Harvey recording an acoustic version of the song on a zither. That album's ingenuity earned Harvey her second Mercury Prize, making her the first and only artist to ever win two of the young, but esteemed, award.
More recently, Harvey had another visual collaboration with Murphy, working with him to assemble a book of photography and found poetry entitled The Hollow Of The Hand. The two traveled to locations ranging from Kosovo, Afghanistan and Washington, D.C. She read one of the poems for a New Yorker feature this past December, which helped her introduce her art to an entirely new audience.
Source: Soundcloud
Harvey's continuing innovations in marketing and releasing her art should be required study for all musicians looking to distinguish their work in today's high-volume musical climate. Many artists have recently experimented with creative marketing schemes, but few have applied those methods to the actual recording and writing process itself. With this performance, Harvey proves once again that she is one of the most forward-thinking and creative musical minds of our time. 
Tickets to see Harvey at work in her studio at the Somerset House are currently sold out, but keep a look out for the album coming shortly after their month-long session finishes up Feb. 14.
h/t Pitchfork