The Future of TV Is Here, and It's Only $20 a Month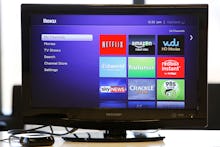 Good news, everyone! You no longer have to choose between an exorbitantly high cable bill and missing your favorite sports teams and TV shows live as they air.
Dish recently announced plans to launch Sling TV, a bundle of channels that will stream the likes of TNT, TBS, CNN, Food Network, HGTV, Cartoon Network, Adult Swim, Disney, ESPN and ESPN2 to subscribers through the Internet. Rather than being confined to the rotating roster of movies and TV series that services offer, consumers can now watch television without having to mess with cable installation.
The cost? Twenty dollars a month.
Since 2010, an estimated 2.5 million people have "cut the cord," bringing the total number of Americans that have left behind cable TV to 7.6 million. But as people move away from the expenses of cable and toward streaming devices such as Roku, Amazon's Fire TV and Apple TV, there's always been one fundamental problem: There's never really been a good option for subscription-based live TV. A slate of your favorite shows is great, but sometimes you just want to watch our favorite team play in the Rose Bowl or screen the Oscars at a party, and Roku and Apple TV don't offer that option. And what's the point of paying for HLN and SyFy when you just want to watch ESPN?
Twice before, Sen. John McCain (R-Ariz.) has tried to introduce a bill that would have allowed for "a la carte" TV packages, in response to consumers' complaints about rising cable costs and paying for dozens of channels that they didn't even watch. TV broadcasters and cable providers nixed the idea.
But Dish's announcement signals cable companies are finally taking customer demands into their own hands. That move may win cable back some cord-cutters and also change the way that the 100 million households with cable bundles pay for the services.
Sling TV also offers "add-on packs" for $5 a month that include HLN, Bloomberg TV, Cooking Channel and DIY Network. There are already plans to "expand its core package, video-on-demand content, online video and add-on packs throughout 2015."
Technicalities aside, the bottom line for consumers is that this is finally fixing an annoying and expensive problem. When we flip on the TV, we want to sit back, relax and watch what we want, without paying an arm and a leg. Now that might finally be an option.
h/t Engadget