Pharrell Just Proved He's the Biggest SpongeBob Fan in the World With This New Song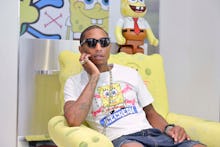 On Monday, Pharrell officially proved, once again, that he's the biggest SpongeBob fan of all time, with the release of a song titled "Squeeze Me." It's an official soundtrack number for The SpongeBob Movie: Sponge Out of Water, and it also constitutes the first release from Pharrell's famed funk and hip-hop band, N.E.R.D., in more than three years. 
Pharrell's love of SpongeBob SquarePants is no secret. "If I could be friends with Patrick Star, that would the best thing ever," he told an interviewer in 2013. The song is an adorable entry to his extreme fandom — even more adorable than when he posed nonchalantly beside someone dressed in a full Patrick Star costume at his SpongeBob-themed 41st birthday party.
But the song is musically significant in its own right — it's the perfect comeback for N.E.R.D. Shae Haley, one of N.E.R.D.'s founding members, described the invitation to record as "a complete honor." "SpongeBob and N.E.R.D. share the same belief that imagination is the key to everything," Haley said.
It's true: N.E.R.D. has recorded a large catalog of impressively imaginative music. Their explosive blend of rock and hip-hop has been a major inspiration to many of today's artists, including electronic music producer SBTRKT, rapper A$AP Ferg and rising legend Tyler, The Creator. Tyler's love of N.E.R.D. is almost comparable to Pharrell's love of SpongeBob: When Tyler watched N.E.R.D. at Odd Future's Camp Flog Naw music festival, he broke down when they performed their biggest hit, "Rock Star."
Tapping Pharrell to write music for the upcoming SpongeBob Movie was a bit of a no-brainer, considering his outspoken fandom. That the ageless super-producer's biggest song to date, 2013's "Happy," comes from an animated film (Despicable Me 2) bodes especially well for the film's success. "Squeeze Me" is the first of three songs Pharrell wrote for the film; "Patrick Star" and "Sandy Squirrel" are named after two noteworthy Bikini Bottom locals, who will also appear in the film to help SpongeBob battle a villainous pirate for control of a magic wish-granting book.
Keep an eye for the other songs coming soon and check out the trailer for the new SpongeBob movie, which premieres Feb. 6.