One Chart Proves Just How Incredibly Hot Our Planet Is Getting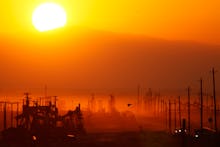 Climate change might have been a losing issue for Democrats in the 2014 midterms, but just because politicians are pretending it doesn't exist doesn't mean it's slowing down.
According to new data the Japan Meteorological Agency (JMA) released Monday, 2014 was the hottest year in recorded human history. The new data indicates that 2014 had the highest average global temperatures noted by scientists in the more than 120 years since the JMA began systemically recording climate data. The results are expected to be confirmed by other organizations such as NOAA and NASA.
Basically, it's getting really hot in here: Mother Jones reports that 2014 "exceeded the 1981-2010 temperature average by 0.27 degrees Celsius (or 0.49 degrees Fahrenheit)," topping off a decade that saw record global temperatures several times. Despite the constant arguments about the Earth's temperature's natural ebbs and flows, the JMA's chart makes it pretty clear that global warming is neither slowing down as predicted by climate skeptics, nor is it something that's just going to go away on its own.
In fact, as Think Progress notes, various corners of the Earth had some frightening experiences with the planet's changing climate. One analysis concluded that Europe's summer was the hottest in 500 years, while another determined that California's sustained drought was the worst in at least in 1,200 years. Siberia defrosted amid temperatures 9 degrees Fahrenheit (5 degrees Celsius) warmer than its 1981-2010 average.
Honey, we broke the planet: Credible scientists near-universally agree that the planet is indeed warming and that the culprit is massive human agricultural and industrial activity. While there's still time to avert the worst, there's not a lot of it. By the year 2100, worst-case estimates range up to a 11.5 degrees Fahrenheit increase in global average temperature. Scientists think a rise of over 3.6 degrees Fahrenheit could be disastrous. Or, if you believe Aaron Sorkin and The Newsroom, "a person has already been born who will die due to catastrophic failure of the planet."
Humans have also collectively made zero progress reducing their impact on the planet. 2014 shattered greenhouse gas emission records, and 2015 is widely expected to break it again. As Slate's Eric Holhaus notes, without serious changes like reducing the emissions of the top 15 emitters by 45% by 2050, humans should "get ready for many more January news stories like this one."
h/t Mother Jones