The Kick-Ass Female Superhero We've Been Waiting for Is Finally Here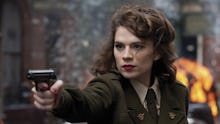 Imagine the typical Hollywood leading lady who dominates screens silver and small: She struggles, succeeds and inevitably finds love. Now ask yourself: What happens next?  
Marvel has, and when its Agent Carter miniseries premieres Tuesday night on ABC, it's demolishing the fallacy that American cinema's love interests don't merit a second act.
Agent Peggy Carter, played by Hayley Atwell, did find love in 2011's Captain America: The First Avenger, even if it was in a single kiss (and a promised dance) with Chris Evans' titular captain before the latter found himself frozen for 70 years. But while Evans slept, Atwell soldiered on: The show picks up in 1946, when the men have come home from distant battlefields and the exceptional, competent women who powered World War II are expected to step aside for them. Carter, who led an entire secret division of the military, is reduced to fetching coffee, typing reports and enduring patronizing colleagues. She's also grieving.
Any other story might have faded to black there, but this is just her prologue.
There's a lot riding on Agent Carter's success, including a lot of money. Disney's 2010 acquisition of the ailing Marvel Entertainment for $4 billion and its string of blockbuster theatrical hits (2012's The Avengers  is the third highest-grossing movie of all time) means Marvel Studios president Kevin Feige has midwifed a franchise that could run through 2028. But Agent Carter could prove another strong entrant into television, joining Agents of S.H.I.E.L.D. both as a competitor to DC — which has arguably dominated superhero television for years with Smallville, Arrow and now The Flash — and as yet another narrative spine to Marvel's endlessly expanding cinematic universe.
But Agent Carter is about far more than just narrative empire-building. Feige has taken heat for failing to provide a female-helmed superhero movie, despite strong and beloved performances in the franchise from the likes of Scarlett Johansson, Gwyneth Paltrow, Cobie Smulders and Kat Dennings. With audiences rewarding films starring capable and complicated heroines at the box office (two words: Katniss Everdeen), Agent Carter could prove that Feige has heard the calls of Marvel fans of all backgrounds. While we may be stuck waiting until 2018 for Captain Marvel to hit the big screen, progress can come much more quickly on television.
Agent Carter is about far more than just narrative empire-building.
The timing has never been better: Viewers have great opportunities to support women in the Marvel universe right now. Agents of S.H.I.E.L.D. features a host of great female characters, and Vanity Fair described its midseason finale last month as a female superhero origin story. Marvel is also bringing original programs to Netflix starring a diverse and unconventional slate of characters: a troubled ex-superheroine (Jessica Jones), a "hero for hire" (Luke Cage), a martial artist (Iron Fist) and a blind lawyer (Daredevil).
Agent Carter matters in the writers' room too. A woman's battle against sexism not only drives the plot of the show, but two women are heading up the series itself (Tara Butters and Michele Fazekas, concurrently retaining their roles as showrunners for ABC's Resurrection). They're part of the mere 27% of women in positions of creative power behind the scenes in the television industry. In some writers' rooms, demanding better for female characters can have professional consequences; The Newsroom staff writer Alena Smith was "excused from the room" for taking up too much time arguing against a rape plot. Yet when a male Twitter user called out Atwell's celebration of the show's "badass female camera operator," she had no compunction standing her ground. After all, it's exactly what the writers are putting on the page.
If the studio has a lot riding on Agent Carter, viewers might have even more. Popular media has a problem with women, both behind the camera and in front of it. Women account for fewer than one-third of speaking roles in film, and about one-third of those characters wear "sexually revealing attire or are partially naked." Even when female characters make it onscreen, scripts usually fail them (and the famous Bechdel Test) by focusing their concerns on male characters' journeys, instead of their own and each other's.
Peggy Carter isn't going to stand for that. She was never just "Captain America's girlfriend," and Captain America fell in love with her for a damn good reason. She's brilliant, capable, fearless and witty — and she wins at life, literally. By the time we see her as an old woman in last year's Captain America: The Winter Soldier, her legacy includes founding and leading SHIELD, a spy/superhero mega-division that puts the CIA, NSA and FBI to shame. (Not that this is an inherently good thing, as the narrative bears out, but the narrative allows Carter to be complex, and to recognize that her life's work has many shades of gray.)
Popular media has a problem with women, both behind the camera and in front of it.
More immediately, though, Carter is a spy with a steely backbone. This miniseries tracks her efforts to clear the name of her great wartime friend, Howard Stark (yes, father of Tony "Iron Man" Stark, played by a dapper Dominic Cooper), and nothing, not guns, gadgets or not-so-gentlemen, will get in her way. But Carter must also cope with personal tragedy, and that she wrestles with grief, as well as cultivates her own friendships with men and women both, fleshes her out beyond a simple butt-kicking lady in lipstick.
From its premise onward, Agent Carter stands by the inherent value of women's lives and stories. Yet the show is going to be good for everyone, not just for its support of women as subjects and creators, but for modeling and celebrating those women, which all viewers need to see. If sex appeal is the only way women can be valuable in media, we're cut off from most of the richness of the human experience available to us in storytelling. We're also cut off from understanding, or wanting to understand, the richness of women's lives around us. Stories like this one reject that option for us all.
Right now, Agent Carter begins and ends with this single seven-week season, starting with Tuesday's two-hour premiere. But should the series strike a chord — and if Feige sees there's money to be made in further seasons — chances are we'll see Hayley Atwell on our screens more often. After all, it's eminently clear that Peggy Carter has plenty of story to tell.
Agent Carter airs its two-hour premiere Tuesday, Jan. 6, at 8 p.m. Eastern/7 p.m. Central on ABC.