Archaeologists Have Unearthed a 4,500-Year-Old Egyptian Queen's Tomb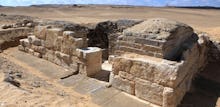 The news: A team of archaeologists working for the Czech Institute of Egyptology have unearthed a previously unknown tomb outside of Cairo believed to date back 4,500 years to Ancient Egypt's Fifth Dynasty.
The Express Tribune reports that Egyptian Antiquities Minister Mamdouh al-Damaty has confirmed the tomb belongs to Khentakawess III, likely the wife of Pharaoh Neferefre. Before the discovery of the tomb, which dates to around 2994-2345 B.C., any knowledge of the queen's existence had long been lost to time. 
The find: The researchers were able to identify the queen consort's name and rank from surviving inscriptions on the inner wall of the tomb, which was located as part of the larger Old Kingdom necropolis at Abusir. Team leader Miroslav Barta added that Khentakawess III's royal status appeared to be confirmed by the tomb's location, part of the larger complex where Neferefre was laid to rest.
"This discovery will help us shed light on certain unknown aspects of the Fifth Dynasty, which along with the Fourth Dynasty, witnessed the construction of the first pyramids," Damaty told the paper. Contents of the tomb included 30 utensils, four of which were made from copper and the rest of limestone. Small statues and ceremonial vessels were also found.
Below are some photos of the site from their statement on the findings:
The history: Pharaoh Neferefre himself was likely buried in a nearby tomb known as the unfinished pyramid, one of the first such structures to be completed in Ancient Egypt. It was only partially completed upon the pharaoh's premature death at the age of 20-23. While Khentakawess III's newly discovered tomb has inscriptions proclaiming her "Wife of the King" as well as "Mother of the King," IFLScience notes there is little reliable evidence explaining the specifics of royal succession from this far back in Egypt's history.
In other recent findings exciting Egyptologists, a team of Spanish-Italian archaeologists uncovered a symbolic tomb dedicated to the god Osiris on the west bank of the Luxor River in the Al-Gorna necropolis. That tomb dated to about 700 B.C. and contained multiple rooms, including a funerary complex including carvings of Osiris and knife-wielding demons apparently intended as guardians.
h/t BBC