No, Freezing Weather Is Not Proof Climate Change Is a Hoax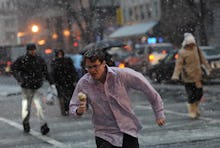 For much of the United States, looking out the window this morning has meant donning heavy jackets and repeating Frozen lyrics to get us through the wintery day. 
But with tons of the white stuff falling from New England to Las Vegas, climate change deniers see more than just a chance to hum "Do You Want to Build a Snowman?" on their way to work. Every time the thermometer drops, anti-science politicians, talking heads and Twitter twits use the weather to mock climate change as a fallacy — and today's cold snap is no different.
But if global warming is real, then why is it so damned cold? It refutes common sense that's been around since the early days of the global warming "debate," but sub-freezing temperatures and the real-life national thermometer that is Twitter have raised the volume of global warming skepticism to 11. 
No, a winter wonderland does not prove that Al Gore is a PowerPoint-loving liar. (Sorry, Donald Trump.) Climate trends are exactly that: trends. And according to climatologists, ice on your driveway isn't halting the trend of rising global temperatures. This assessment, from the Japan Meteorological Agency, compares 2014's global average surface temperatures with those of prior years, dating all the way back to 1891 — and according to the data, 2014 was Earth's hottest year on record.
Yes, baby, it's cold outside, but this week's icy blast is practically beach weather by the standards of previous generations. During last year's "polar vortex," when the entire country was gripped by winter-induced climate change skepticism, webcomic xkcd brilliantly demonstrated the uselessness of using cold weather today to disprove climate science:
The global trend is clear: According to the University Corporation for Atmospheric Research, a nonprofit consortium of more than 75 universities that aims to advance the understanding of weather and climate, global temperatures increased by 1.53°F (0.85ºC) from 1880 to 2012. That's including the oceans, which rise in temperature more slowly than land. When looking just at continental data, the three decades from 1983 to 2012 were likely the warmest 30-year period of the last 1,400 years.
But global temperature increases don't follow a straight line. Depending on the year, global temperatures can rise sharply, stay the same or even fall a little (according to the National Oceanic and Atmospheric Administration, this vacillation can be partially attributed to El Niño water currents). Volcanic eruptions, solar flares and polar vortexes can all affect surface temperature of the Earth, but they're certainly not reversing the global warming trend. 
The consensus of 97% of the climatological establishment hasn't been able to melt the icy resolve of skeptics, unfortunately. According to the Yale School of Forestry and Environmental Studies, the percentage of Americans who believe global warming is happening has dropped by seven points since 2012, with roughly 1 in 4 Americans thinking that climate change is "just God hugging us closer."
Occasionally, weather events can be indicators of larger trends, but the larger trends are of a planet with a broken thermostat. According to the 2014 U.S. National Climate Assessment, some regions of the U.S. have seen as much as a 71% increase in the amount of rain or snow falling since 1958. According to the Union of Concerned Scientists, spring-like weather now happens 10 days earlier than it used to, a process dubbed "spring creep." 
Sorry to add to your wintertime misery, deniers, but one snowstorm doesn't disprove rising global temperatures any more than eating a Quarter Pounder disproves global hunger. If we spent more energy on limiting carbon dioxide emissions and increasing our energy efficiency, rather than on complaining that having to put on a hat in January is proof of a global scientific conspiracy, the climate change debate might be over for good. Let it go.