7 Reasons Hillary Clinton Should Announce She's Running for President Right Now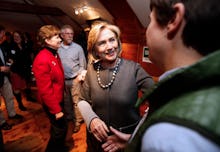 Since leaving her post as secretary of state in 2013, Hillary Clinton has crisscrossed the country delivering speeches, headlining campaign rallies and keynoting activist conferences. Outside each of these events, giddy teams of true believers canvass the parking lots, dishing out "Ready for Hillary" swag, asking for attendees' support and, just maybe, a few bucks for the cause. Ask if Clinton is going to run and they will assure you, "Oh yes, we're just waiting!"
For Clinton, the time for waiting is over. As we approach the eighth anniversary of her ill-fated entry into the 2008 Democratic presidential primary, the former first lady and New York senator is in a better position than ever to win the White House. In this barren Democratic field, Clinton's most formidable enemy could be the growing vacuum created by her silence.
By getting in the mix now, Clinton can begin the difficult work of building a billion-dollar campaign without one hand tied behind her back. The relative downside — that jolt of energy an announcement would provide the army of pundits who have for two decades scrutinized her every word — is overstated. For the the past year, most of the major news networks and a number of high-profile online outlets have assigned dedicated reporters to track Clinton's every step. Far from getting out ahead of the campaign, Clinton is at risk of falling behind.
That in mind, here are the seven most significant reasons Clinton should announce her campaign for president as soon as possible:
1. Clinton can start building the infrastructure she needs to win.
We learned in 2007 and 2008 that a Democratic primary contest is as much about electoral strategy as captivating the voters. Then-Sen. Barack Obama did both. Clinton did manage to craft a very passionate and compelling message to voters, but it only really emerged after she'd been mathematically eliminated from the competition. She didn't lose by much, but it was all too little, too late. Clinton simply didn't have the organizational structure necessary to compete from the very beginning.
Unlike the Republicans' winner-take-all primary setup, most Democratic contests will award delegates in proportion to the number of votes a candidate receives. Even when Obama lost in bigger states like New York and California on Super Tuesday in 2008, Clinton struggled to make up much ground. In fact, had she competed in some of the smaller states that Obama won overwhelmingly (in the process, collecting an overwhelming delegate advantage over Clinton), she would have been in very good position to win the nomination.
By starting her campaign now, Clinton will be in a better position to do the apparently small things, like setting up field offices and preparing for likely political attacks, that will pay big dividends when the race inevitably tightens up over the next 18 months.
2. She can lock down the money.
Believe it or not, Clinton does not have the keys to every bank on Wall Street. She just happens to be friendly with the folks who do. But big political primary dollars don't move like normal, smart investments. There is less diversification. Donors commit to candidates. When a formidable candidate like Clinton makes her intentions known, it becomes far easier for operatives to call up members of the fundraising elite and ask them to get to work bundling money on the campaign's behalf.
Before you know it, there isn't enough money left in the pot for anyone else to eat. And then it becomes a lot more difficult for other candidates to mount a serious challenge.
3. It's better to find out now what does and doesn't work.
As difficult as it might be for national political pundits to swallow, the fact is that the vast majority of Americans simply aren't thinking about the 2016 presidential contest right now. We are still more than six months out from the first scheduled Republican debate. The Iowa caucuses are a little less than 13 months away.
For a candidate like Clinton, this offers an opportunity, however brief, to get out and play some small shows. Like a comedian testing material ahead of her HBO special, the former secretary of state could hit the road and speak to less adoring crowds than she's grown accustomed to seeing at paid gigs and liberal activist conferences. Sure, the political media will try to burn her like an ant under our big ugly microscope, but Clinton (experienced, though not always adroit on the trail) will become a better candidate for it.  
4. She needs to hire (and fire) the right people.
It is an article of faith that being Hillary Clinton's campaign manager is the worst (or at least most tenuous) job in politics. Her first campaign boss was replaced a year into the 2008 contest and three or four top advisers were in and out the door as the "no drama" Obama campaign began to take inexorable flight. 
This time around, Clinton needs to get to work early cutting loose the holdovers from her husband's political sphere, while locking in the digitally savvy smarties who will help make her new campaign more nimble and efficient. (Note: Every campaign promises the latter, but few succeed. For Clinton, given the shambles of 2008, it is doubly imperative.)
This means, as more than one Democratic operative notes, not only bringing in new blood, but making the sure those old guys — invariably, it's the old guys — are dispatched of in such a way that they aren't inclined to pull up lawn chairs and heckle the new team from the sidelines.
5. Announcing now gives Clinton the chance to control the narrative.
Since she left her post at the Obama administration, Clinton has made dozens of speeches, written another memoir and raked in millions of dollars. She has participated gamely in countless question-and-answer sessions, often at women's rights forums. During the 2014 midterm campaign, Clinton made a number of stump speeches for hand-picked candidates. So she has not been setting the terms of the discussion so much as boosting its volume.
Entry into the 2016 Democratic nominating contest means she — and not, say, Sen. Bernie Sanders (I-Vt.) — can dictate what party die-hards are talking about until debate season begins. This doesn't mean Clinton can silence the more liberal voices in the party, but it puts her on the high ground. The last thing she wants is to be seen as reacting to Sanders or former Maryland Gov. Martin O'Malley, who, should he enter the race, would run as a progressive-but-electable alternative to Clinton. Downplaying her ties to Wall Street should be at the very top of the agenda.
6. She would crowd out the rest of the field.
Just as important as the opponents who do turn out for the big contest, are those who do not. One in particular comes to mind: Sen. Elizabeth Warren (D-Mass.). The hero of the Democratic left, a perfect foil for Clinton's cozy relationship with high finance, has said she isn't running for president, and wouldn't challenge Clinton.
Politicians have been known to change their minds on matters such as these, but there is no real evidence that Warren is looking for this fight. Equally important, making Clinton official will instantly cut off oxygen to the thousands of grassroots types saying they are "Ready for Warren" to enter the contest.
7. It would get Republicans talking.
For more than two decades, Hillary Clinton has been catnip for Republicans. Despite seeming offended by her very presence, they are chemically drawn to her. And what follows tends to manifest itself in the form of weird, delirious rhetorical spasms. For Team Clinton, the sooner Republicans begin talking about her, the better. 
While serious challengers like Jeb Bush can probably be trusted to keep it decent and respectful, there will be a half-dozen more looking to gin up their perceived base of support with clumsy attacks that will surely offend and distract from the more relevant and useful criticism.
Off to the races, but at her own pace: Contrary to conventional wisdom, being "in the race" doesn't mean you have to spend every second running. By declaring her candidacy, Clinton will actually be able to operate more freely. The political press will always speculate on and analyze her personnel decisions and fundraising tactics, but for the voting public, those stories become less interesting when they can't be sold as Definitive Proof Hillary Clinton Is (or Is Not) Running for President.
The decision made, Clinton can focus on refining and, in some cases, redefining her message. The fact that "Hillary Clinton," unlike her potential opponents, is a household name, gives her the leeway to steer clear of the daily grind while getting attention whenever she wants it. 
Whether Clinton is able to translate these built-in advantages into a successful run for the White House will come down to how she manages these first few steps on the path.