New Hubble Telescope Photos Capture One of the Universe's Most Stunning Formations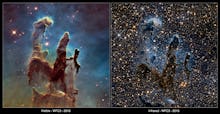 In 1995, the Hubble Space Telescope captured what would become one of history's most enduring images of the universe: The Eagle Nebula's Pillars of Creation. Now, 20 years later, Hubble has released a collection of brand new, high-definition shots of the iconic formation. 
If you thought the universe was hauntingly beautiful before, wait until you see these. 
Behold:
Comprised of three towers of gas, dust and space matter, structures like this are not altogether uncommon in star-forming regions. But as the Hubble website notes, the Pillars of Creation are some of the most photogenic and mesmerizing examples ever seen. 
"The Hubble image of the pillars taken in 1995 is so popular that it has appeared in film and television, on tee-shirts and pillows, and even on postage stamps," HubbleSite writes. 
The telescope used the Wide Field Camera 3 to capture the stunning new images. It sees near-infrared light, visible like and near-ultraviolet radiation, and also has higher resolution and a bigger field of view than the camera that came before it. 
This time, Hubble also captured an image taken in infra-red light, which "penetrates much of the obscuring dust and gas and unveils a more unfamiliar view of the pillars," according to the website. "Here newborn stars, hidden in the visible-light view, can be seen forming within the pillars themselves." 
Not everything is happy-go-lucky in Pillars of Creation-land, however. Despite their name, the new shots indicate that the pillars are also being worn down by the very stars they are helping to incubate. "The dust and gas in these pillars is seared by intense radiation from the young stars forming within them, and eroded by strong winds from massive nearby stars," HubbleSite explains.
Arizona State University's Paul Scowen, who helped lead Hubble's first deep dive into the Eagle Nebula, stressed just how incredible our sightings of the Pillars are. "I'm impressed by how transitory these structures are," he said in a press release. "We have caught these pillars at a very unique and short-lived moment in their evolution."
Interestingly, environments like the Eagle Nebula and other star-forming regions were instrumental in our own solar system's development. "What that means is when you look at the environment of the Eagle Nebula or other star-forming regions, you're looking at exactly the kind of nascent environment that our Sun formed in," Scowen said.