'Game of Thrones' Is Going Where No TV Show Has Gone Before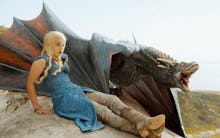 If your Game of Thrones withdrawal has reached a fever pitch, HBO has a twist for you — and no, it's not a new character death.
Starting Jan. 23, the show is bringing Season 4's last two episodes ("The Watchers on the Wall" and "The Children") to IMAX screens at 150 theaters across the country. The episodes are being remastered so they're IMAX-ready — but they'll only be on the big screen for one week.
Fans who get tickets will also see an exclusive trailer for Season 5. Only a few seconds of footage have been released so far, meaning superfans would brave dragon fire (or at least pay IMAX ticket prices) for the prospect of a full trailer.
"The Watchers on the Wall," the most expensive episode in the show's history, will be a great choice for IMAX. The episode consists of a single gigantic battle full of explosions, giants riding mastodons and one of the saddest deaths in the history of the show (and there have been a lot). "The Children," the Emmy-nominated season finale, featured numerous cliffhangers (with two of the show's most beloved characters fleeing by ship and one of the Big Bads finally getting what was coming to him).
George R.R. Martin, the author whose "A Song of Ice and Fire" book series spawned the Game of Thrones show, originally imagined the series as the lead-up to one huge movie. But the show's success on HBO — it's the company's most popular series ever, averaging 19 million viewers per episode last season — may make that outcome unlikely. Why put something in theaters that's raking in so much money for your network?
Putting episodes that have already aired in theaters, of course, is another story entirely. And with the fifth season not expected to begin until April, chances are that plenty of fans will be lining up for one more big-screen taste of Westeros.