A Guide for Anyone Who Finds Themselves in the Middle of a #BlackBrunch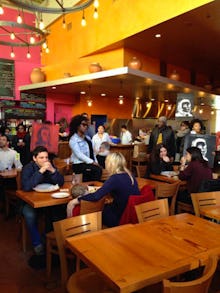 Over the past five months, protesters have hit the streets, highways, airport terminals, shopping malls and schools, filling newspapers with images of marches and die-ins. Now, in an effort to take the message about anti-blackness and police brutality in America into bastions of money and privilege, these protesters are shutting down a very different kind of venue: 
Weekend brunches.
The brief demonstrations have been dubbed "Black Brunch" and usually feature a group of protesters entering a predominately white brunch spot and reading the names of unarmed black people who have been killed by police. The reading lasts for 4.5 minutes, meant to represent the number of hours Michael Brown lay dead on a street in Ferguson, Missouri. After each name is read, the participants respond with "ashe," a word from the Yoruba language of West Africa that's similar to an "amen." The protesters go on to ask the listeners to "stand up for black life," meant to show solidarity with the broader movement. 
Yes, it's an interruption and it may make some people uncomfortable. Worse, some may feel it's a waste of their time. If you do find yourself feeling uncomfortable, it's worth taking a second to interrogate that emotion. Remember that there's a much larger issue at stake that merits a few minutes of your time — at the very least. 
Reactions so far appear mixed. Some brunchers in NYC and Oakland went along with the action, while some other restaurant owners have asked protesters to leave. Meanwhile, the hashtag #BlackBrunchNYC has been co-opted by a few ignorant individuals determined to spread racism and hatred:
In reality, those ample servings of eggs Benedict and mimosas can still be enjoyed alongside the demonstrations. In case anyone confused about how they should react when a #BlackBrunch happens, here's a quick guide:
Remain calm and listen.
Protesters want to make it clear that business can't continue as usual while unarmed black people are being killed or brutalized by the police. And, yes, business as usual also includes brunch. 
The demonstrations are meant as a wake-up call to those who may not be aware — or are choosing to ignore — the state of race in America. The protesters don't require anything except that you pause, remain calm and listen. That means paying active attention to what's being said and pardoning the brief interruption for the benefit of education (for yourself and others). Protesters are taking time out of their own busy schedules, the least you can do is listen for a few minutes.
As one protester told the crowd, according to a report, "Every 28 hours, a black person in America is killed by the police. These are our brothers and sisters. Today and every day, we honor their lives."
Use the time to reflect on the issue.
While the names are being read, remember that these are people whose lives were lost and that it indeed could've been prevented. Studies show that black people are frequently stopped and racially profiled by police, and they are also disproportionately subjected to excessive force and brutality. The racial disparities exist and have for years — the protesters are calling for accountability and institutional changes that reflect the value of black lives. 
If you're able, stand in support when asked.
It's an act of affirmation for that moment. But, more importantly, it's an act of recognition for the broader message being conveyed and the movement it's a part of. 
Continue eating as usual after the demonstration ends.
Yes, the brunch was interrupted for about five minutes or so. But don't worry, your food will still be just as delicious. Plus, now the meal can be enjoyed with some added awareness.
Share what happened with family and friends.
Don't let what happened end with brunch. If the demonstration is upsetting, imagine just how much more saddening the reality is for people who feel targeted by issues of racial profiling and police brutality. Take the time to get even more informed — and make good on what was heard during the demonstration. But don't keep it all inside: Share it with those you know who would also benefit from an important conversation about the issue.