These Nanny-State Cities Are Trying to Make It Illegal to Go Sledding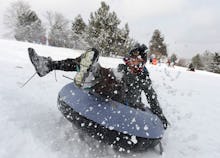 First, they came for our snow days. Now, they're coming for our sleds. Will the madness ever end? 
The Associated Press reported Sunday that sledding — the sacred wintertime ritual of careening down a hill on anything you can get your hands on — is in danger. Cities across the country are banning the practice, claiming that safety concerns and potential legal battles outweigh any fun the activity might involve.
One such city is Dubuque, Iowa, where the city council plans to prohibit sledding in 48 of its 50 parks. "We have all kinds of parks that have hills on them," Marie Ware, Dubuque's leisure services manager, told the AP. "We can't manage the risk at all of those places."
Places like Dubuque say that the risks associated with sledding, like serious bodily harm, are a legitimate issue of public safety. They're also worried about possible lawsuits filed by those hurt while sledding. City council members were apparently lukewarm about the decision during meetings, but felt it was the only option "given liability concerns and demands from the city's insurance carrier," according to the AP. 
Cities that have barred sledding on certain hills or posted signs indicating sledding's dangers include Des Moines, Iowa; Montville, New Jersey; Lincoln, Nebraska; and Columbia City, Indiana, according to Newsweek. 
To be fair: The cities aren't imagining the safety risks. Sledding is dangerous — as you can imagine, hurtling down a slippery hill on a plastic object barely big enough to contain its rider isn't the safest recreational activity. 
More than 20,000 sledding injuries happen in the U.S. each year, according to a study by the Center for Injury Research and Policy at Nationwide Children's Hospital in Columbus, Ohio. "I want them to go sledding, I want them to have fun, but we could do a better job," Lara McKenzie, the study's lead researcher, told NBC News.
Other childhood activities, like riding a bike and jumping on a trampoline, are far more dangerous — the two are responsible for 275,000 and 82,000 injuries per year, respectively. But as McKenzie points out, "20,000 injuries a year for an activity you can only do a couple days a year is big."
But lawsuits are the biggest culprits here. The AP highlighted two recent cases involving sleds. In one, the family of a 5-year-old girl in Omaha, Nebraska, was awarded $2 million when she was paralyzed after hitting a tree; in another, a man in Sioux City, Iowa, received $2.75 million after he injured his spinal cord while sledding.
Ware admitted Dubuque wouldn't pursue serious legal action against sledding offenders, which suggests that cities are simply trying to protect themselves. 
"We just ask people to stop doing it, and typically, that's what people do," she told Newsweek. "If a person becomes a repeat offender, if they are uncooperative, they could get a municipal infraction, like a fine."
As Steve King, proprietor of a pro-sledding website, told the AP, "We live in a lawsuit-happy society and cities are just being protective by banning sledding in areas that pose a risk for injury or death."
So sledding will likely only disappear when it's pried from the cold hands of fun-lovers everywhere. But good luck getting the law on your side — given these new restrictions, you'll likely get nothing more than a cold shoulder.