Malia Obama Has Excellent Taste in Music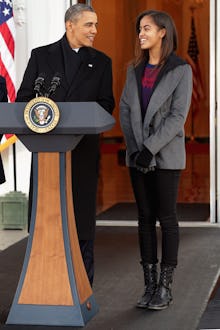 Malia Obama broke the Internet yesterday. The teen, whose social media use is heavily restricted, posed in a T-shirt repping a Brooklyn-based hip-hop collective called Pro Era (short, fittingly, for 'Progressive Era'). Instantly, publications pulled the story in a hundred different ways: MTV used it to look at the particularly fraught relationship between presidents and rappers. Gawker and the Verge questioned the source of the photo, suggesting it could be a potential White House leak. 
But the real story is that Malia has amazing taste in music. And she may have just given a very deserving hip-hop collective the biggest break they could ask for. Pro Era casually reports that they received the photo "a mutual friend of Malia and the pro era member." But there is nothing casual about the kind of press they're now getting. And that means big things for hip-hop.
Pro Era is a promising Brooklyn hip-hop collective, made up of around 47 young members — MCs, producers and promoters. Its most prominent member, Joey Bada$$, is gearing up to release his debut major label album later this January. He and Pro Era represent a positive trend toward politically conscious young hip-hop of the sort the genre needs now more than ever.
All the tracks released from the project illustrate the 19-year-old MC's dexterous lyricism and love for old-school, golden age hip-hop beats. On "No. 99," one of his recent singles, he weaves clever boasts with cutting sociopolitical critiques and stylish slang to make some of the most rowdy protest music in recent memory.
That's the group's specialty, and it has been for a long time. The four original members of Pro Era — CJ Fly, Joey Bada$$, Capital STEEZ and Powers Pleasant — met in high school. Capital STEEZ chose their name Pro Era and formed the group.
"We would always cut classes and go to the auditorium and try to rap with each other. And we always wondered why there wasn't a music program for rappers, it wasn't like equal or a respected art in music," said CJ Fly, describing the group's beginnings.
STEEZ was the group's inspiration and spiritual leader. And in the group's darkest moment to date, he committed suicide December 2012 just days after the group released their first album, PEEP: The Aprocalypse. He left no explanation, though Fader points out that a lot of his verses expressed a lot of world-weariness from the constant hustle. In memory to STEEZ, the group has redoubled its focus on social and spiritual consciousness.
"What Steez did was give us hope," Kirk Knight, one of the group's beatmakers and MCs, told Fader. "We all had the same subject matters and way we thought in our brains. He just put a vision on the board for you to achieve it."
But the group has rebounded and their new work seems like their best chance yet to really make a name for themselves. STEEZ would likely be overjoyed to see to how the group has developed in his absence. CJ Fly and Nyck Caution have both released solo albums in past two years, both well received. Pro Era has also released two group compilations, showcasing the range of the group's talents and the sweet, soulful beats led by Chuck Strangers and Kirk Knight. 
h/t MTV