Benedict Cumberbatch Gets His Award Speech Right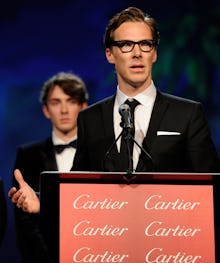 Benedict Cumberbatch just gave us one more reason to love him.
At the Palm Springs International Film Festival on Sunday, biopic (and likely Oscar contender) The Imitation Game received the honor for best ensemble performance in a film. While accepting the award on behalf of his costars, Cumberbatch used his speech to pay homage to Alan Turing, a computer scientist credited with cracking the German Enigma Code during World War II and later prosecuted by the government he aided for being a gay man.
"Alan Turing was a war hero. He was a gay icon," Cumberbatch said. "Any attention this film is getting, including us being awarded at this very prestigious awards night at the Palm Springs awards, we thank you for it. We dedicate it to Alan."
Cumberbatch's graceful tribute to Turing, whom he portrayed in the film, exhibits a genuine compassion for Turing and the oppression he endured in the 1950s. Instead of turning the moment into one about the cast, the actor's selflessness reminds us of the intolerance that the LGBT community has faced and of Turing's legacy.
In the past, other actors who have depicted historical minority figures have skimped on giving disenfranchised groups the recognition they deserve. In 2014, Jared Leto took home both the Golden Globe and the Oscar for Best Supporting Actor after portraying a transgender woman in Dallas Buyers Club. Leto's performance was applauded as brave and groundbreaking by many, while others, such as Time's Steve Friess, took issue with a straight male actor playing the role and with Hollywood's epidemic of turning transgender individuals into campiness for cheap laughs.
Worse was his insensitive acceptance speech at the Golden Globes, which featured jokes about body waxing. When he won at the Oscars, he played it more tactfully by acknowledging the "36 million people who have lost the battle to AIDS" and making a vague comment of support to those who have "ever felt injustice because of who you are or who you love." Neither time did he bring up the trans community and the violence that they face.
Leto's win was the latest in a string of trophies awarded to straight actors for playing LGBT characters. Unfortunately, the acclaim for astounding performances tends to block out any recognition of the struggles faced by those members of the queer community the actors are depicting. In the case of Leto, who didn't attempt to shine light on those experiences until he'd been called out for his maladroit Globes speech, this leads to actors co-opting queer experiences for fame and fortune.
With awards season revving up, other chances are coming up for actors to call attention to the LGBT characters they play. The Imitation Game is nominated for numerous Screen Actors Guild Awards, such as ensemble cast and lead actor, along with Golden Globes, including best motion picture. The Normal Heart, an HBO film about the '80s AIDS crisis starring Mark Ruffalo and Matt Bomer, is also nominated for SAGS and Golden Globes. Amazon Studios' Transparent, a series about a middle-aged transgender woman (played by Jeffrey Tambor) and her grown children garnered two Golden Globe nods. If the movies and shows with LGBT characters at the center win, it'll be an opportunity for those actors to measure up to Cumberbatch's speech and honor the characters they portray in a way that feels authentic.
Last year, Lupita Nyong'o delivered an acceptance speech that displayed an awareness for the trials faced by the character she played in 12 Years a Slave. "It doesn't escape me for one moment that so much joy in my life is thanks to so much pain in someone else's," she said, "and so I want to salute the spirit of Patsey and thank her for her guidance." Her speech, sensitively recognizing that her victory was only possible because of her real-life character's struggles, was one to which many performers this awards season should aspire.
h/t The Advocate