The Best of Joe Biden Being Joe Biden at Tuesday's Senate Swearing-in Ceremony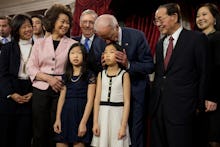 The 114th Congress was sworn in Tuesday, with Republicans formally taking control of both chambers for the first time in eight years. There were the usual procedural ceremonies, but by far the most entertaining bit of theater was provided by Vice President Joe Biden, who was in top form.
In his capacity as president of the Senate, Biden is tasked with swearing in new and returning members. After administering the formal oaths, the vice president likes to hang around for a mock ceremony and take pictures, selfies included, with the senators and their families. The ritual has become one of the must-watch events of any new Congress, as the quips and Bidenisms show the vice president in his element.
Biden glad-handed, smiled at and chuckled with wives, sisters, political aides, in-laws, babies — so, so many babies — and even a dog.
Here's a taste of the atmosphere as Biden welcomed members of the 114th Congress into the Senate:
Biden took with Sen. Jeanne Shaheen's grandson:
And another selfie with Sen. Mark Warner's daughter:
And another!
Rejected!
Sadly, today's show is over. On the bright side, we do have one more to look forward to — January 3, 2017, will be Biden's grand finale. Until then, senators please get busy building those fences around your homes.
This post has been updated repeatedly.