McDonald's Bizarre New Strategy Proves Its Critics Have Been Right All Along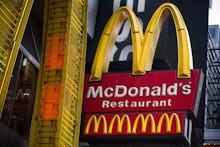 In 2012, McDonald's growth began to slow. By the end of 2014, the company posted some of its worst monthly sales in over a decade. And as its shares lost value, the company also made headlines for scores of labor violations and as a focal point for fast-food worker strikes for fair wages across the country. 
As 2015 begins, McDonald's has a brave new vision to keep the ship afloat: more lovin'.
But the ambition is in the optics, not the substance. As opposed to reforming the kinds of product and labor practices that the company needs to improve its prospects, these changes signal the continuing decline of an institution that has failed to adapt to the new realities of a younger generation of consumers.
The rebrand: McDonald's plan to revive its brand involves doubling down on its classic "I'm lovin' it" slogan "by introducing a new platform that puts more focus on lovin'," according to a company statement released Friday.
Recognizing "all the negativity that surrounds daily life," the renewed focus on lovin' is to inform "everything we do moving forward, from advertising and marketing to how we interact with customers in restaurants and on social media."
Here's what the new "lovin'" packaging looks like:
McDonald's new vision is centered on the theme of engagement — convincing the consumer that they are in a conversation with a company that has a big heart. U.S. Chief Marketing Officer Deborah Wahl announced that the company is shifting gears from an ethos of "billions served" to "billions heard," according to Ad Age.
Sounds lovely. Except it probably won't work.
Generational divide: McDonald's is certainly not the first rapacious corporation to drape itself in the garb of goodwill ambassador for humanity, so it deserves no special scorn for that. But savvier audience engagement isn't likely to change the deeper factors that are eating away at the company's bottom line: the quality of its goods and the way it treats its employees.
As Ad Age notes, McDonald's has been less popular with millennials than other brands. But this has less to do with how it can improve its voice on Twitter than with the fact that its fundamental business values clash with the way young Americans see the world.
Millennials tend to be more conscious of their consumption habits than other generations. Research shows that they prefer natural food, organic products, smaller corporations and rewarding socially responsible enterprises. They also place a higher value on experience and are more willing to invest in a pleasant meal that delivers that experience. McDonald's, a company that offers burgers that don't decompose and pays its employees abysmal wages, is an iconic inversion of the millennial sensibility.
Given that millennials are tastemakers and the largest generational cohort in America, their purchasing power is absolutely essential to the future of any major company. But some industry observers think that the trend away from bottom-of-the-barrel fast food is happening across society.
A different kind of fast food: Consider the rapid rise of Shake Shack, which is getting ready for an initial public offering. Andrew F. Smith, who teaches food studies at the New School, argues that Shake Shack's popularity is a testament to the fact that Americans are generally growing more willing to spend more money for fresh ingredients, fair-trade products and the comfort of doing business with a company that has a better relationship with their employees. Shake Shack isn't an exemplary restaurant by many measures, but its growth does signal something worth noting about consumer taste.
McDonald's should apply its new principle of listening in a way that goes deeper than saccharine advertising campaigns or minor touch-ups of its menu. It should listen to the people making documentaries about how its food ruins the health of its customers, and to the people striking outside its restaurants. It should be a better restaurant.
McDonald's did not respond to a request for comment.