California Just Broke Ground on a $68 Billion Project That No Other State Has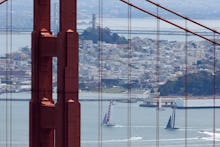 California is about to get the nation's first bullet train.
KPCC reports that Tuesday marked the official start of work on a high-speed rail line that will zip passengers between Los Angeles and San Francisco at a stomach-churning 200 mph. For an estimated cost of $68 billion, the new train is expected to cut travel time between the two cities to less than three hours from the six or more it takes now.
According to KPCC, the first phase of the project includes a 28-mile stretch of track from Fresno to Madera Additional phases planned would complete the 520-mile stretch between San Francisco and the Los Angeles Basin by 2029.
It's a big deal: In an age of wavering public support for large-scale public spending projects, California's new bullet train is an astonishing win for infrastructural investment. Funded through the state's cap-and-trade legislation, the train project survived hurdles on everything from environmental impact assessments to GOP opposition. According to the Los Angeles Times, congressional Republicans have made it clear they have zero intention of extending additional federal funding for the project.
Even skeptics like columnist George Skelton admit the train would offer an attractive alternative to existing modes of travel, while backers like California Gov. Jerry Brown say the plan is actually cheaper than building roads to deal with massive population growth. Experts generally agree that high-speed rail is an attractive, cost-efficient and effective transportation option. But with the estimated cost well above the funding sources already secured, the train will have to be supported by private investment.
The project would also put America on track to reclaim its international status as a world leader in big infrastructure. U.S. High Speed Rail Association operations and policy director Daniel Krause told Bloomberg that "the rest of the world is way ahead of us. Japan just celebrated their 50th anniversary running high-speed rail. But California has finally broken through and taken the lead and pushing high-speed rail."
We can't keep driving or flying forever: Nationwide, congested roads and poor public transportation options aren't just frustrating — they're costly. A recent study, per Newsweek, estimates the cost of traffic congestion at $124 billion a year.
By pushing forward with its high-speed rail program, California is taking a big step into the future. "There is simply no more effective way to alleviate congestion of our roads and airways and get people to their destinations than rail," Reps. John Mica (R-Fla.) and Bill Shuster (R-Pa.) told CNN in 2011. 
Bonus points: The project would put California on the same illustrious map as Ogdenville, Brockway and North Haverbrook — though hopefully the state is hiring better conductors than Homer Simpson.