We Need To Talk About the Big Problem with Online Dating for Asian Women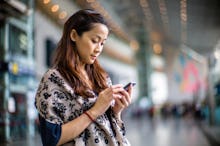 It's good to be popular on online dating sites — unless that popularity is for all the wrong reasons.
That's the dilemma so many Asian women face when they delve into the world of digital dating. As a group, Asian women are actually the most "popular" of all races on OkCupid; and a survey by dating site AYI.com found that Asian female users were most likely to get messages from male users — but only if those men were not Asian.
The tendency of non-Asian men to fetishize Asian women, lusting after their "exotic" appeal or assigning them offensive stereotypes, has turned online dating for Asian women into a minefield of unwanted sexual advances and problematic questions. It's behavior experienced by many minority groups online, whether it's transgender women, black women or lesbians. Asian women are a particularly notable example, and it has name: "yellow fever."
Now more than ever, as online dating grows, there need to be more safe spaces that tamp down the "fever" — and empower women to have the kinds of interactions they want.
Unsurprisingly, online dating brings out the worst. "I've tried online dating ... before permanently deleting my account after receiving little more than creepy (and sometimes downright revolting) messages," the anonymous Asian-American columnist "O.D.D. Girl" wrote for Audrey magazine. 
The messages often zero in on the most hackneyed and offensive stereotypes about Asian women, from their assumed docility or sweetness to the ironic assumption that they're also better in bed. "I've received my fair share of doozies, including questions about my personal hygiene because of my race," Cherlynn Low wrote for Mic, as well as "questions about what I do in the bedroom or about my body parts."
The worst of them were masterfully collected up in 2013 on a Tumblr called, simply, creepywhiteguys. A sample: "I'm just a big strong American man who will love and protect you :)" 
"I didn't feel safe on these sites. I felt really exposed," Susie Lee, a Korean American, told the Seattle Times. "Especially as an Asian woman, you put your picture up there and suddenly like 'Asian fantasy' would come up."
There are some solutions — in the form of dating apps. Lee and Katrina Hess' negative experiences as Asian women online led them to develop Siren, a dating app launched in early 2014 and currently available in a beta format for Seattle-area users. Siren uses "Questions of the Day" to match potential partners, allowing women to answer first and then choose which men they're willing to be "visible" to, based on the guys' answers.
The developers say this format helps stem the tide of the unsavory, unwanted messages women of all races receive on dating sites. But Lee and Hess conceived Siren partly in response to the uncomfortable attention they were receiving due to their race.
Siren's approach just might be what women are looking for. Lena*, a Cambodian American woman who has used online dating for several years, said the best way to improve the experience for Asian women is to give them more control over their profile and online identity.
"In this age of Google where people can research anyone, information is precious. Withholding that information at first meeting is key because with that information, people can write people off so quickly," she said in an email to Mic. By being able to control how much information, including that initial photo, someone sees, Lena said, "I just feel it leaves for a more positive experience ... [the] removal of ethnicity."
Ethnic identity shouldn't be something you have to hide. By allowing women to meet men without their ethnicity overshadowing the initial encounter, Siren is admittedly a short-term solution to a wider cultural problem. The ultimate goal should be to banish negative ethnic stereotypes once and for all.
For Asian women, that includes not reducing a complex person into a fantasy all the while erasing diversity within Asian communities. Lena, for example, says she has been singled out on sites like OkCupid because she was mistaken for Korean. Upon realizing she was Cambodian, some men would simply abandon the conversation.
"I felt unwanted or unattractive because I wasn't really a Korean girl," said Lena. With a curvy figure and tanned skin, she said, "It's like I shattered these guys' expectations of what a beautiful Asian woman should be."
There are also expectations of how an Asian woman should behave. As Karen Eng famously wrote in "The Yellow Fever Pages" in 2000, "The fantasy Asian is intelligent yet pliable, mysterious yet ornamental ... perpetually pre-pubescent — ageless and petite ... she comes from a culture where women traditionally serve men." 
The stereotyping cuts both ways, with Asian men feeling the effect of prejudice when dating online. Data from prominent dating apps find that Asian men are some of the least often selected by women online, as they come up against the pervasive stereotype of being "a group so devoid of intimacy as to be certifiably sexless," Mic's Zak Cheney-Rice wrote — all the while Asian women are fending off unwanted advances due to their oh-so-lucky status as fetish objects.
The problem for both comes down to the damaging power of ethnic stereotypes. There is no pan-Asian mold for looks, just as there is no Asian rule book for behavior or personality — our personalities are just as complex as our cultural and ethnic differences.
Creating safe spaces online where ugly prejudices can't show face is critically important. Correcting these damaging stereotypes, on dating sites and across pop culture, is the much bigger goal worth pursuing. 
*Name has been changed.