Meet the World's Most Controversial Porn Star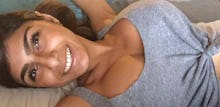 On paper, Mia Khalifa is in a position to assume the role of Lebanon's cultural ambassador. The 21-year-old is well-educated and flourishing in her area of expertise, and she has legions of fans who support her.
There's just one problem. Her area of expertise is porn.
Khalifa recently burst onto the scene when she became the top performer on PornHub, a free website that's also the 73rd most popular site on the Internet, according to analytics company Alexa. Her meteoric rise to fame is vaguely reminiscent of Belle Knox, who made headlines in early 2014 after it was discovered that the Duke freshman was also a porn performer. 
For the Lebanese-born Khalifa, press outlets have jumped at the chance to talk to her, perhaps in part because of her novelty and perceived exoticness. 
Newsweek, which spoke at length with Khalifa, notes that she was born in Beirut but moved to Montgomery County, Maryland, she was 10 years old. She received her bachelor's degree in history from the University of Texas at El Paso and is now based in Miami — her Twitter profile reads "Unofficial mascot of the Florida State Seminoles."
Corey Price, vice president of PornHub, emphasized Khalifa's popularity, and told BuzzFeed that the site has seen more than 750,000 searches for her since Saturday.
With 83,000 Twitter followers, over 7,000 Facebook likes and nearly 84,000 Instagram followers, it's safe to say that the petite brunette — whose measurements come in at 34DD-26-40 — has officially made a name for herself. 
But her native Lebanon isn't pleased. Despite her loyal following, Khalifa also has an equally vocal band of critics, including her own family. 
She told Newsweek that her parents — whom she described as "extremely strict, overbearing and very conservative" — were deeply upset by her choice to work as a porn star. "No one in my family is speaking to me," she said. "Everybody from my second cousins to family friends to my parents' friends know ... it's not something that's going to be forgiven."
NOW Lebanon's Juliana Yazbeck argued that Khalifa's profession was problematic given the bleak circumstances of many Lebanese women. 
"It never even crossed my mind to think, 'She doesn't have the right,'" Yazbeck wrote. "What did cross my mind was: 'Really? Of the very few Lebanese women who are making global headlines, it had to be a porn star?' It felt like I had traveled for months, and just as I was nearing my destination, someone used my passport to wipe their ass, undoing all my hard work and sending me back to square one."
Some of the criticism has morphed into abuse:
As the Daily Mail noted, one of the biggest sources of outrage is a video in which Khalifa performs sex acts while wearing a hijab, a headscarf worn by Muslim women. She's also been berated for her tattoos, one of which is the opening lines of the Lebanese national anthem. 
The underlying message, of course, is that a porn star isn't worthy of representing Lebanon, and the closer Khalifa appears to identify with the country, the angrier people get. 
She refuted the criticism, however: "They're embarrassed I'm 'claiming' them — as if I had a choice," she told Newsweek. "I was born there."
But there's something else at play. Whenever a woman comes out as a porn star, the attacks inevitably start pouring in by the boatload — just look at what happened to Knox. But in Khalifa's case, the barbs have racial and cultural roots as well. 
Mira Abouelezz at Muslim Girl wrote: 
"The detail that makes Mia's case so special is the fact that she is from the Middle East specifically — a region that has, in recent history, been ravaged by American wars, vilified in media depictions, and targeted by Western Islamophobia. 
In other words, the video in which Khalifa wears a hijab is upsetting because it plays right into the "dominant white man" theory, which is particularly problematic given the United States' recent history in the Middle East. Abouelezz says the video isn't even an accurate depiction of Muslim sex — Muslim women usually don't wear the hijab while doing it — and thus using it in that way is clearly intended to titillate and provoke.
"Mia, with her bare Arabic tattoos and hijab acts," Abouelezz concludes, "is an extension of living, breathing orientalism — its oppressive message existing even in the realm of power and dominance in the porn industry."
Indeed, the source of the threats seems to back this up — Khalifa told Newsweek that most of the hatred she receives online comes from Lebanese men who have watched her work.
Still, for all the hate, Khalifa has retained a sizable fan base, and her popularity keeps growing. She doesn't plan on doing porn forever, although she plans to keep it up for the time being. "It's not something I'd make a career out of," she told Newsweek, "but I'll ride it out 'til I can't do it anymore."
h/t Newsweek