The Next Scarlett Johansson Movie Illustrates a Huge Problem with Race in Hollywood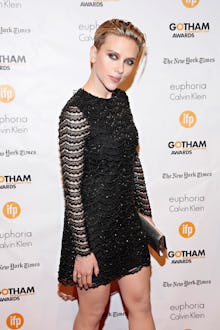 It's never too early in the year for a racial controversy in Hollywood.
On Tuesday morning, Variety reported that Scarlett Johansson — actor, singer, famous white person — has agreed to star in DreamWorks' adaptation of Ghost in the Shell, an iconic Japanese anime film.
She'll likely play a version of Maj. Motoko Kusanagi, a cyborg protagonist employed by the cybersecurity division of a future Japanese government. In the original film, Kusanagi is Japanese. In the remake, clearly, she won't be.
Hollywood's race problem is widely documented. As recently as December, leaked emails between Sony executives revealed a slew of racist jokes about President Barack Obama's taste in movies, sparking a public outcry and a few laughable attempts at reconciliation (Sony co-chair Amy Pascal said she wanted to "accept responsibility" for the remarks; then she reached out to Al Sharpton).
These comments wouldn't be so troubling if they didn't mirror reality: From the whitewashed casting of Exodus — a story set in Egypt — to director Ridley Scott's justification for it ("I can't mount a film of this budget ... and say that my lead actor is Mohammad so-and-so from such-and-such"), it's clear that even today, Hollywood's relationship with people of color is presumptuous and condescending at best.
At worst, it's something more insidious. This is particularly apparent when it comes to live-action adaptations of animated shows and movies. Hollywood's recasting of Asian characters using white actors is persistent to the point of parody. 2009's Dragonball: Evolution was a prime example, replacing nearly all of Dragonball Z's Japanese characters with white actors. M. Night Shyamalan's Avatar: The Last Airbender followed suit in 2010, which kicked off the "racebending" movement.
Johansson's casting in Ghost in the Shell suggests this trend is far from over. While executives are busy swapping out Asian characters out for whites ones, based on the assumption that white faces bring in more money, scores of talented Asian and Asian-American actors are losing work, and the industry's blindingly white power structure remains unshaken.
This is not to mention that logic's general incorrectness. In a recent study, UCLA's Ralph J. Bunche Center for African American studies found that, on average, films with more ethnically diverse casts make more money than those without — about $92 million more in median box office receipts in 2011, to be precise.
Meanwhile, the whitewashed Dragonball was a complete flop, while The Last Airbender was critically panned.
To be sure, it's not always problematic to recast iconic characters as different ethnicities. The practice can give filmmakers a chance to reimagine well-trod worlds, or subvert audience expectations about race and representation. Just ask Idris Elba.
But too often in Hollywood, it's used to erase the experiences of people of color from the silver screen altogether. Ghost in the Shell stands to be yet another example. Which is a shame, because it's 2015 and, frankly, absurd that we can't get a remake of an Asian film that stars an actual Asian person.
h/t Angry Asian Man