Joan Didion Just Showed Everyone What a Fashion Ad Should Really Look Like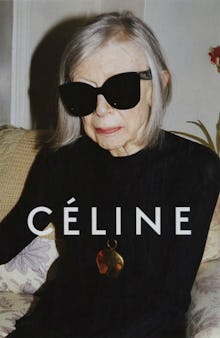 Badass.
That's really the most apt word to describe the newest ad from French fashion house Céline, featuring none other than Joan Didion. 
Yep, it's the iconic 80-year-old author, screenwriter and journalist beloved by every literature major-turned-cool kid you know. And thank goodness for that: Fashion ads could use more female celebrities whose biggest claim to fame is their unrelenting, unapologetic smarts.
Didion is not only glamorous, something we're reminded of with those oversized glasses (her style signature since the 1960s). The "Slouching Towards Bethlehem" writer also has a dry wit, raw honesty and unforgiving eye that have given her writing a DGAF attitude long before "DGAF" was a thing.
That insouciance is on display in all its glory in this new ad campaign, which doesn't follow the typical fashion advertising rules. You can't see Didion's eyes or much of her face at all. What is shown doesn't appear to be airbrushed, thank goodness. Céline has let an older woman look her age, something plenty of brands seemingly can't bring themselves to do. 
Most notable is that as a "celebrity," Didion isn't a tabloid-friendly household name. She doesn't have a new movie coming out. She's not famous first and foremost for looking great on camera, or for posing in red carpet dresses. She's famous for being smart. 
And when it's been proven again and again that women, especially young girls, look to fashion ads to form their beauty ideals and aspirations, that's no small thing. Smart, creative types are indeed sexy, but that's actually beside the point. Being sexy isn't the be-all, end-all for women when you can be intelligent, insightful, straightforward and witty. Oh, and badass.
As one former fashion editor described the new Céline ad to Mic, "It's so cool it hurts." If that doesn't describe a successful advertisement, we don't know what does.
h/t Vogue.com