Disgraced Former Virginia Governor Is Going to Prison for Two Years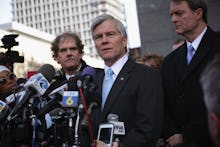 The news: Former Virginia Gov. Bob McDonnell was sentenced to two years in prison Tuesday, following his September conviction on 11 counts of corruption.
The sentence was actually much shorter than what prosecutors sought and many expected, according to the Washington Post. U.S. District Judge James R. Spencer said McDonnell's military service and support from his daughters moved him to lighten the load, and he dropped a weird biblical reference in explaining the sentence.
"A price must be paid," Spencer said. "Unlike Pontius Pilate, I can't wash my hands of it all. A meaningful sentence must be imposed."
What he did: McDonnell and his wife Maureen faced a combined 14 counts of corruption for their dealings with former Star Scientific Inc. CEO Jonnie Williams. The company was selling an anti-inflammatory drug called Anatabloc, and the McDonnells were helping.
The couple hosted the Anatabloc launch at the governor's mansion, attended other product events and put Williams in touch with government officials, according to the Associated Press. In exchange, Williams provided them with many expensive gifts.
Those gifts included $15,000 for their daughter's wedding reception, $20,000 in designer clothes and a $6,500 engraved Rolex, plus thousands upon thousands more in vacations, golf trips and loans.
Family ties: What was notable about McDonnell's defense is how much of it came down to marital troubles. His attorney argued that the couple could not have conspired to commit fraud because their marriage was so bad they barely talked to each other.
McDonnell's daughters got in on it, too, asking the judge for leniency and saying their mother "does not operate rationally." Their mother, though, wasn't the governor.
Despite the relatively light sentence, McDonnell is the first Virginia governor to be convicted of a crime. And he'll have those two years to think about whether the $177,000 in gifts and loans was worth it.