Rescuers Release First Photographs of Missing AirAsia Flight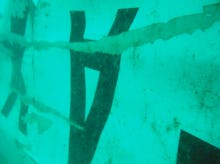 Rescuers may be closer than ever to solving the mystery of downed AirAsia Flight QZ8501, announcing the discovery of the plane's tail section and releasing the first photographs of the doomed passenger flight.
Indonesia's search and rescue agency said Wednesday that the tail of the crashed AirAsia jet has been located about 20 miles from the plane's last known location. The tail section contains the black box and other vital flight data recorders, which will provide Indonesia officials with a look at the last minutes of the flight, which crashed with 162 aboard more than one week ago.
"We've found the tail that has been our main target," Fransiskus Bambang Soelistyo, head of the search and rescue agency, said in a news conference Wednesday, displaying an that image appears to show an upside down "A'' painted on a piece of metal.
Other grainy photographs, captured by divers, show other mechanical parts of the plane's tail section.
Soelistyo told reporters that while unfavorable weather conditions and murky water continue to hinder the operation. Divers managed to get a photograph of the debris after it was detected by an Indonesian survey ship.
It is still unclear what caused the crash of the Airbus A320-200, which went down halfway through a two-hour flight between Indonesia's second-largest city of Surabaya and Singapore, killing everyone on board, but bad weather is believed to be a contributing factor. Just before losing contact, the pilot told Indonesian air traffic control he was approaching threatening clouds but was denied permission to climb to a higher altitude because of heavy air traffic.
Indonesian authorities on Monday handed down the first punishments stemming from the crash by suspending officials connected to the airline's alleged flight schedule violation. The Los Angeles Times reports that officials have said that QZ8501 was not authorized to fly on Sundays, as it did Dec. 28 when it went down in the Java Sea.
h/t Associated Press