One Tattoo Artist Is Using Her Skills to Help Transform the Lives of Burn Victims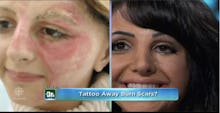 Tattoos aren't just for artistic expression and decoration, anymore. They're also helping transform lives.
Basma Hameed is using her tattoo artistry skills and expertise in micropigment implantation to help give new life to burn victims. Patients walk into her clinic with scarring and discoloration and, after a series of treatments, leave with a renewed sense of self.
Case in point: 17-year-old Canadian Samira Omar was viciously beaten and burned with boiling water by classmates while studying abroad, leaving her unrecognizable. But Hameed is helping her heal, one session at a time, as well as countless others suffering from scars, burns and even breast cancer survivors in need of areola reconstruction.
Hameed's first patient was herself. After a childhood kitchen accident left her with devastating third-degree burns on her face, Hameed underwent 100 painful surgeries, leaving her face permanently bright red. 
Not one to give up, she got inventive.
"After having three failed eyebrow hair transplants, I decided to get permanent eyebrows tattooed," Hameed told Mic. "I saw the result immediately. I was so happy that I thought to myself — why not do the same procedure using skin tone pigments on my scar tissue, to camouflage the discoloration. At the time no one had heard of anything like it, and no one wanted to take the risk."
Her personal success gave her an idea for a broader mission. "I knew that this would be something that would change lives," she said.
And change lives, she has. Hameed has become something of a hero for people who have run out of medical options to treat their skin conditions. Her pioneering work with paramedical scar camouflage helps patients retake control over their appearance.
"When I first meet my clients they can be so shy and insecure about their respective skin conditions, but once we do few treatments they are like brand new people," she said. "They smile, they laugh, and most importantly they feel like they can live again."
This is what keeps Hameed going. "Hearing them say, 'I can go out and truly enjoy my life now' brings me back to that sense of relief and excitement I felt when I first saw the results on my own face. It ... serves as a reminder of how blessed I am to be doing what I'm doing."
Paying it forward. Hameed is determined to help as many people as possible, which is why she founded the Basma Hameed Training Academy with offices in Chicago and Toronto.
"I would like to see the service being offered all over the world one day," she said. "My end goal is to ... eventually make this procedure accessible to people who need it everywhere."