#JeSuisCharlie Stands Up for Free Speech After Deadly Attack on French Magazine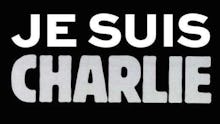 Twelve people were killed on Wednesday when two masked gunmen attacked the Paris headquarters of the French satirical magazine Charlie Hebdo. French President François Hollande called the violence a "terrorist operation," while President Barack Obama issued a statement saying his administration would "provide any assistance needed to help bring these terrorists to justice."
Charlie Hebdo was thrown into the spotlight in 2011 for a particularly controversial issue of the magazine. Renamed Charia Hebdo and "guest edited" by the Prophet Muhammad, the issue ignited massive controversy and led to the firebombing of its headquarters and hacking of its website.
Shortly after the incident, Charlie Hebdo editor Stéphane Charbonnier — who was killed in Wednesday's attack — defended the decision. "If we worried about the consequences of each of our drawings in each of our 1,057 issues, then we would have had to close shop a long time ago," he said at the time. 
Though the precise motivation behind the deadly attack, as well as the identities of those responsible, is still unknown, some have begun to protest against what they see as an act of violent censorship. 
Nowhere was this more clear than on Twitter, where the hashtag #JeSuisCharlie ("I Am Charlie") began trending soon after the attack. Often accompanied by an image with the same phrase, the hashtag has been defined by its tone of solidarity and has provided a much-needed outlet for sympathy, unity and outrage.  
#JeSuisCharlie sends a clear message: Regardless of the threat of hatred or violence, journalists and non-journalists alike refuse to be silenced. As Charbonnier said in 2012, following the firebombing of his offices, "I have neither a wife nor children, not even a dog. But I'm not going to hide."