Here's Everything You Need to Know About Jeb Bush as He Gets Ready to Run for President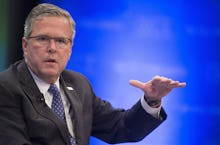 Jeb Bush is the son of one U.S. president, the brother of another, and, if the stars align for him and the Republican Party, he could become one in the next election.
In the past few weeks, Bush's entry into the arena for a potential presidential run has garnered a great deal of media buzz and excitement among GOP movers and shakers. On Tuesday, he launched a political action committee called "Right to Rise," which sketched out some of his basic political principles and pulled in significant sums of cash within hours of going online.
But despite the party's interest, the familiarity of his last name and a respectable political career, most of the public knows little of his history or ability. If you're wondering why Bush thinks he has a shot, here's a primer on his background and his prospects for 2016 as the campaign starts to pick up speed:
A brief history of Bush's experience
Jeb Bush was born and raised in Texas. He attended the University of Texas at Austin, where he earned a bachelor's degree in Latin American affairs. In the 1980s, he moved with his wife to Florida to work in real estate development and entered a number of ambitious business ventures. He started making a name for himself in county-level politics, and in 1986, he was appointed Florida's Secretary of Commerce under Republican governor Bob Martinez. He resigned from the position in 1988 in order to work on his father George H.W. Bush's successful bid for the presidency.
In 1994, he narrowly lost a race for Florida governorship against the Democratic incumbent. After the loss, he went on to create and chair the Foundation for Florida's Future, an education reform nonprofit. In 1998, he was elected governor, and then he was reelected in 2002 — the third Republican to make it into the governor's mansion in the state, and the only one in Florida history to be reelected. Since leaving office in 2007, he's been immersed in the world of consulting, education policy and corporate philanthropy, and he co-authored a books about immigration reform.
What Jeb Bush has going for him
Bush's greatest advantage is his name. Being the son of George H.W. Bush, and the younger brother of George W. Bush comes with some baggage — in the case of the latter, it's heavy — but ultimately it has enormous benefits. Being the member of a political dynasty eases transition onto the national scene; people may not like every association they have with your family, but name recognition and an aura of familiarity is invaluable for gaining an edge in an open race. Voters who know nothing of his history as a governor will nonetheless assume he has a certain level of political know-how.
Jeb Bush and his family have been entrenched in the upper echelons of the Republican Party for so long that the typical courtship process has been reversed. Many big donors and party operatives, who are eager to settle on one promising candidate as early as possible, have attempted to persuade him to run despite some reluctance on Bush's part. In a field whose biggest names all seem to be tainted in one manner or another — whether by scandal (Gov. Chris Christie), ideological tension with the party line (Sen. Rand Paul), or recent failure (Mitt Romney) — Bush emerges as a relatively reliable bet.
Bush's tenure as governor should satisfy the conservative base on a number of fronts. During his time in office, he enthusiastically cut taxes and state jobs. He sought education reform that changed accountability standards and built up private school voucher programs. He came out against stem cell research, supported a divisive "Choose Life" specialty license plate and took action to keep Terri Schiavo (a brain-damaged woman who became the center of a national debate on end-of-life ethics) alive on life support. While he's only worked in domestic politics, in the 1990s he signed on as a member of the Project for the New American Century, the bastion of neoconservative foreign policy thought that was instrumental in shaping George W. Bush's hardline response to 9/11.
What Jeb Bush has going against him
A number of political observers are skeptical about Bush's ideological and practical fitness for the nomination, and they attribute his popularity among members of the party establishment to the GOP's desperation for a viable candidate.
In the policy realm, Bush is widely perceived as having two main weaknesses: his commitment to immigration reform and a consistent allegiance to Common Core, an education reform policy that reeks of government overreach to conservative activists. 
In 2014, he provoked the ire of many conservatives by saying that immigrants who enter the country illegally to better the lives of their children "broke the law, but it's not a felony," and preferred to describe it as "an act of love." He has lobbied to reorient the Republican Party to embrace immigration reform as an act of compassion, economic opportunity and electoral common sense, but so far the base of the party has not been persuaded.
On education, his aggressive campaign for Common Core educational standards, which have been adopted by 46 states in recent years, has made small government advocates uneasy. While education policy is not traditionally considered an easily accessible or emotionally evocative issue, many observers once assumed the same thing about health care.  
Aside from heresy in these two policy domains, the main argument against Bush is that he's been out of Republican Party for so long that he's not cut out for what he's about to encounter. Under the influence of the tea party, the GOP has shifted rightward and grown hostile to compromise. The fact that Bush doesn't have his finder on the pulse of the party was on full display when he went to North Carolina last fall to endorse a Republican Senate candidate only to receive pushback from the candidate himself. Bush's remarks were so out of line with conservative thinking on immigration and education that his ideas were disavowed by the very person he came to advocate for. It was an astonishing error, and one that should give his supporters pause about what it means to be a policy reformer versus a party reformer.
Even if Bush is able to adapt to a more radical Republican Party, he's also rusty when it comes to campaigning. He hasn't run for political office in over a decade, and today's politics are faster and dirtier. They now require tech savvy and a Millennial sensibility that cannot be learned overnight. 
Finally, Bush might be unwilling to subject his family to the rigors of a campaign. Party insiders and politicos close to the family know that Bush's wife is not fond of the spotlight, and many believe that she may be the reason he hasn't attempted a presidential run until this year. Furthermore, his children have had some run-ins with the law related to public intoxication and drug use. The public often forgets about candidates as human beings who value their privacy (at least for their families), but it's an issue that has caused serious candidates to bow out in the past.
The road ahead: It's too early to tell whether Bush will come into his own as a candidate and adapt to the realities of contemporary conservative politics, but he has all the resources one could conceivably need. What remains to be seen is if he has what it takes.