12 Female Celebrities Are Speaking Out Against the Red Carpet With a Different Message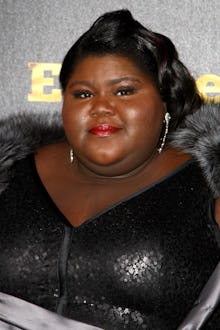 Red carpet season is upon us, which means we get to experience all the glitz, glamor and of course body shaming of Hollywood from the comfort of our couches.
While award shows, like this Sunday's Golden Globes, are meant to honor the entertainment industry's best talent, they are all too frequently also used as a platform to scrutinize and skewer female celebrities for their appearance.
Just ask actress Gabourey Sidibe, who was humiliated for her dress choice at the 2014 Golden Globes. Thankfully, she didn't take it too seriously and owned her haters with the perfect comeback:
Unfortunately, Sidibe's experience isn't atypical. Female stars are routinely fat shamed and critiqued for their looks, rather than celebrated for their successes. If you listened to these affronts in a vacuum, you'd surely believe that body positivity has no place in Hollywood. 
Thankfully, that is absolutely not the case. While sexism has long been an entrenched aspect of the entertainment industry — and therefore the awards shows that represent its public face — a growing movement has started from the very celebrities must often targeted for criticism. These empowered women, and some men, are speaking out now more than ever, proving that the red carpet does not ned to be synonymous with sexist and outdated standards of beauty.
1. Mindy Kaling
2. Lea Michele
3. Emma Watson
4. Jennifer Love Hewitt
5. Zooey Deschanel
6. Rebel Wilson
7. Drew Barrymore
8. Kim Kardashian
9. Sidibe
10. Kate Hudson
11. Eva Mendes
12. Chelsea Handler