21 Inspiring Photos From the Aftermath of the 'Charlie Hebdo' Massacre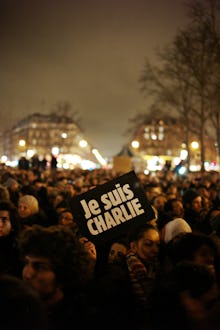 Masked men stormed the Paris offices of French satirical paper Charlie Hebdo on Wednesday and shot and killed 12 people, including two police officers. Though reports are still preliminary, it appears the gunmen targeted the paper for its provocative and controversial depictions of Islam and the Prophet Muhammad, among other religions.
Though the city of Paris, the country of France and arguably the world is still reeling from what are being called "exceptionally barbaric" attacks, many have already taken to the streets of Paris and social media with a simple sign of solidarity: "Je Suis Charlie," or "I am Charlie."
Several members of the French press have joined the growing chorus, including the offices of Agence France Press, pictured below: 
But perhaps the more striking images come from the streets of Paris and other French cities were hundreds, even thousands, of people have gathered in support and solidarity after these horrific attacks. 
While a lot could be written about what everyone in France and much of the rest of the world is likely feeling at this moment, it's sometimes better to just let the pictures do the talking.