Why Everyone Should Be Celebrating Hot New 'Orange Is the New Black' Inmate Ruby Rose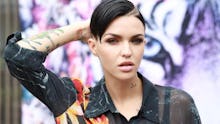 Ladies around the world are literally falling over themselves this week after news broke that Australian heartthrob and gender fluid DJ/model Ruby Rose will appear as a recurring character on Season 3 of Orange Is the New Black. 
One day after the announcement went live, media frenzy has reached a fever pitch, with some LGBT sites equating the news to Kim Kardashian's "break the Internet" moment.
While it's great that an openly queer woman is being covered so widely, theres a lot more to celebrate here than just her eye-catching androgynous looks:
She's also a queer woman who is playing a queer woman on TV.
Rose, engaged to Roald Dahl's granddaughter, Phoebe Dahl, is proudly open in the highly closeted Hollywood industry. She will play an inmate named Stella Carlin, who will be the object of "lust" for both Piper and Alex. Rose's casting is a big deal because roles for queer women on TV and film are rare — not to mention that these roles are usually filled by straight actors who are "gay for pay." Even Orange Is the New Black's major cast members are predominantly heterosexual. According to GLAAD's 2014 "Where We Are On TV Report," only 40% of television characters are women and less than half of all LGBT recurring characters are women. 
In the infographic detailing the "2015 State of the Queer Lady Television Union," Autostraddle's Heather Hogan illustrates just how important Rose's casting is to the representation of queer women on television.
Rose's casting, Hogan says, along with queer female roles being added to shows like Backstrom and Scream, will only increase these figures. But progress can also be measured, as Hogan says, in the shifting way queerness is portrayed on television. Today, "we're seeing more and more characters who are exploring their sexuality without labels," she writes. "A few years ago, queer characters without labels only meant a show/network wasn't willing to commit to keeping them queer. That's just not the case any more."
OITNB is staying relatively mum on how Rose's character will express her sexuality, but we do know she'll be getting up close and personal with her fellow inmates. Her casting is proof that there are talented LGBT actors ready the chance to represent themselves on the big screen. 
And that's something to celebrate.