Neil deGrasse Tyson Is Getting His Own Out-of-This-World Late-Night Talk Show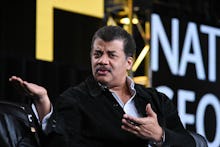 After the immense success of Cosmos: A SpaceTime Odyssey, renowned astrophysicist, Internet darling and all-around awesome dude Neil deGrasse Tyson is getting another TV show. Only this time, instead of a scripted journey through time and space, Tyson will be taking a seat behind a desk and hosting his very own late-night talk show.
On Wednesday, the National Geographic channel announced that Tyson would be hosting the network's first ever late-night talk show, Variety reported. It will be loosely based on Tyson's popular podcast, Star Talk, and feature the cosmologist in the starring role. Few other details have so far been announced, but if it is anything like the podcast, you can expect a slew of comics, celebrities and fellow scientists to join Tyson to discuss "astronomy, physics and everything else about life in the universe."
"Cosmos allowed us to share the awesome power of the universe with a global audience in ways that we never thought possible," Tyson reportedly said. "To be able to continue to spread wonder and excitement through Star Talk, which is a true passion project for me, is beyond exciting."
Star Talk will also mark NatGeo's continuing expansion into such original programming (they're also planning an upcoming comedy from the creators of HBO's Silicon Valley). And as an educational channel that actually still has educational programming (unlike some other guys) hopefully they'll make this expansion carefully and deliver something good.  
"We continue to bolster our programming with series and event specials that are brand definitional, and Star Talk is the perfect opportunity to offer our audience an edgy, late-night alternative with the credibility and authenticity that are the hallmarks of our network," National Geographic Channels CEO Courteney Monroe reportedly said.
Of course, while this could just be another splash in the pan in a long string of failed late-night talk shows, since this is the National Geographic Channel's first foray into the late-night game, you can probably bet they'll do whatever it takes to avoid this turning into a black hole.  
The show is schedule to start shooting Thursday and the first episodes can be expected to premier in April.
h/t Variety