Science Has Discovered Your Dog Could Be the Greatest Therapist of All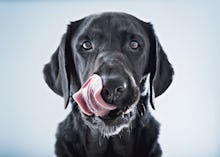 Sophie May, a 5-year-old German shepherd, has a more tightly packed workweek than your average family pet. Alongside her owner, psychotherapist Leslie Stewart, Sophie has spent the past four years helping students stamp out stress and work through mental health woes. Together, Stewart and Sophie offer counseling through group outreach programs and two-on-one psychotherapy. To Stewart, Sophie's more than a companion, or even a tail-wagging assistant: She's a colleague, a canine co-therapist.
Having a human-dog therapist team on staff may not be the norm, but schools across the country have been inviting therapy dogs like Sophie and their human handlers onto campus to help students calm down and perk up, especially during final exams. As Sophie's work shows, dogs on the quad can do more than spice up study breaks. Puppy love appears to have real therapeutic value, particularly for populations that don't get the mental health services they need, from college kids navigating adulthood to inmates staring down life sentences.
Up to 40% of Americans suffering from mental illness remain untreated, and when it comes to health care, mending the mind takes a back seat to bettering the body. There's no shortage of institutions, residential communities and facilities that could use more therapeutic services. Animal-assisted therapy is loosely defined as "goal-directed intervention in which an animal that meets specific criteria is an integral part of the treatment process." Dog therapy, among other types of AAT, is an increasingly popular way to augment mental health services without breaking the bank.
What do mental health therapy dogs do? To some extent, therapy dogs do what all pets do: provide unconditional emotional support and companionship. They also facilitate social interactions and help reluctant therapy patients embrace the process. In some cases, dogs act as liaisons between psychotherapists and patients, "co-therapists" in a very real way.
All AAT dogs must pass veterinary and temperament tests and undergo some sort of training, alongside human handlers, to work with people battling mental illness. As co-therapists, dogs can help manage anxiety, depression, PTSD and psychotic disorders. Observed and self-reported emotional benefits of AAT correspond to physiological changes too. The human-animal bond causes a surge in levels of the feel-good hormone oxytocin in both species. And researchers have seen people's blood pressure and cortisol levels drop after taking care of dogs.
Therapy dogs differ from service dogs, which are certified by the Americans with Disabilities Act to live with and guide people with disabilities, including visual impairment. Therapy dogs also differ from emotional support animals, which go where other dogs can't (like the subway), provided their owners have doctors' notes.
Coeds and canines: In the past few years, school shootings (whether or not all incidents directly relate to mental illness) have called attention to the unmet psychiatric needs of college kids. Mental health issues, including depression, schizophrenia, bipolar disease and addiction, often emerge during young adulthood, a vulnerable stage of life in terms of emotional and cognitive development. And research has shown that college students are unlikely to take action when they sense a mental health issue. Most schools offer free or low-cost psychotherapy services, but there's typically a cap on the number of sessions counselors can provide. Therapy dogs are becoming a way to enhance services without straining budgets.
The most popular form of AAT springing up on college campuses costs schools roughly $0. AAT organizations register and train pet and handler teams, which visit campus for a few hours at a time to help students de-stress. Columbia University and the University of Pennsylvania offer puppy study breaks during final exams. At Yale Law School, students can "check out" therapy dogs like library books. Pet Partners, the largest AAT organization in the country, says these services are gaining traction at schools in every region.
"We don't have great data yet," said Mary Margaret Callahan, national director of programing at Pet Partners, "but we have seen college stress sessions take off in the past two years. They're becoming extremely popular."
Stewart conducted an AAT pilot study at the South Carolina Academy of Design and published the results in the Journal of Creativity in Mental Health in September. She and Sophie visited a commons on campus every two weeks for two-hour chunks, during which students could drop by for as long as they wanted. Students played with Sophie, met school therapists and hung out with other students in a low-pressure environment. Based on psychological self-assessments completed before and after the study, participants said feelings of anxiety and loneliness dropped by 60%.
Therapy dogs enhance services without straining budgets.
Most students rated Sophie's presence as the most helpful aspect of the study. Sophie also facilitated social interactions among students by providing a shared experience and built-in conversation topic. The social component of animal therapy may get overlooked, but merely being around animals strengthens the human bond. During a human-animal interaction, even bystanders get an oxytocin boost, said Stewart. Meanwhile, Sophie provides her own kind of feedback to her human counterpart. "Sophie is able to pick up on cues and hormonal changes in the client, and pretty much tell me about them," she said. "And she can help clients become aware [of their own changes], so she's basically a biofeedback machine."
After the study ended, participants who'd never sought out therapy showed up at the school's counseling center. Stewart believes that Sophie helped students feel comfortable enough around the human therapists to book individual sessions. 
Dogs in jail: College makes for one kind of stressful environment, but for places that exacerbate or even trigger psychiatric disorders, prison is a whole other ballgame. There are now 10 times more people with serious psychiatric illness living in prisons and jails than in state psychiatric hospitals, according to a 2014 report from the Treatment Advocacy Center, which called prisons "America's new asylums." Like colleges, prison systems in a number of states have started using AAT as a way to bolster therapy at no cost. Other countries, including Ireland and Ecuador, use prison dog therapy too.
It's not clear how many prisons use AAT, but the Utah Department of Corrections incorporated dogs into counseling services from 2008 to 2013. The prison had "overcrowding in its mental health program," the Deseret News reported, so administrators brought in therapy dogs to supplement services. Colleen Baum is the volunteer coordinator at Intermountain Therapy Animals, the organization that provided the therapy dogs.
"During group therapy sessions, inmates formed a circle and the dog sat in the middle," said Baum, of a session she oversaw. "The dog was in-tune, emotionally. The [inmates] talked about pretty heavy things, and they would often cry, and the dog would go over and sit in the lap of the person sharing, like he knew who needed it."
Therapy worked best, Baum said, when the discussion related back to the dog. When the group talked about boundaries, for example, the dog handler got the ball rolling by mentioning one of the dog's boundaries: having its paws touched. Inmates who'd been reluctant to share, Baum recalled, started opening up.
The program isn't running at the moment.
"Due to lack of staff and volunteer resources," Brooke Adams, Public Information Officer for the Utah DOC, told Mic in an email, "the program stopped in 2013, but the Utah Department of Corrections hopes to get it running again later this year."
Last summer, the Colorado prison system started an animal therapy program at a maximum-security facility outside Denver.
"We have noticed a calming effect from the presence of the dogs since the very beginning of the program," said Debi Stevens, supervisor of the prison-trained K9 Companion Program at the Colorado Department of Corrections. "We have mental health workers that pick up our dogs and take them to the higher security level prisons. Even though the dogs have no specialized training for this task, their very presence is something the offenders look forward to with anticipation."
Some of the state's most violent offenders spend an hour a week petting, hugging and walking therapy dogs, who've even managed to coax formerly reclusive inmates out of their cells, the Denver Post reported in August:
Matthew Diggers, who is serving a life prison sentence for a second-degree murder conviction in 1988, is part of the program for severely mentally ill inmates. He wrote a message to the Denver Post describing how another program dog named Zipper affected him on a particularly bad prison day.
The way forward: Using dogs in psychiatric treatment isn't new. As far back as the 19th century, dogs lived in European psychiatric wards to disrupt the prison-like atmosphere. In 1919, doctors at a Washington, D.C., hospital gave psychiatric patients dogs as companions to aid their recovery process. The practice fell out of fashion with the introduction of psychiatric medication in the mid-20th century.
AAT's broad appeal to diverse demographics may be part of why it's becoming so popular. Plenty of other groups also appear to benefit from AAT, including veterans with PTSD, elderly residents at assisted care facilities, ex-convicts and crisis survivors. But Stewart worries that people accept AAT more than they understand it, and hopes more psychotherapists will undergo AAT training and incorporate dogs into their work.
"Calling volunteer teams to come [to schools] around finals has become very popular," said Stewart, "but there are very few colleges that have mental health provider on staff who's also an animal therapy provider."
Yet if dogs are as therapeutically valuable as they seem, perhaps, she suggests, it's time to fund serious research on AAT. Until then, ask your boss, dean or warden to bring on the dogs.
This article has been updated.