Unironic White Men Want You to Know That They "Have Stories to Tell Too"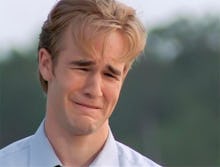 White male tears fill pages.
As if the entire history of English Literature, literary canon or literary publishing weren't proof enough of how white men have historically dominated the world of literature, white man and USA Today columnist Michael Wolff is here to remind America that "white men have stories to tell, too."
The bravado of this totally serious review far surpasses the bad writing of this White Man's Lament posing as a "book review." Wolff's review reflects a fear, accompanied by a growing hostility and backlash against women, about men losing power. The irony is that, especially in the worlds of media, literature and publishing, statistics prove that white men haven't compromised any of their power. 
Misogynist revisionism: To read the headline, one might be forgiven for thinking that white men are suddenly struggling to be heard and have their stories published. "[The] middle-aged, culturally undistinguished, American male [is] now the most overlooked," he claims, making Hollywood lawyer Kevin Morris out to be a hero redeeming literature from the female and minority masses. According to Wolff, "middle-aged white men" are "one of the least-popular media subjects" and "white man's media" is "a lost form or marginalized genre."
"The achievements of successful middle-aged men ought to be satisfying, but such satisfaction is ever-dimmed by a world that success does not alter, a world no longer impressed by such success, a world often conspiring against it — and finally, pulling intricate emotional chords, a world where success robs you of the right to express yourself (who really wants to listen)."
Accordingly to VIDA, the organization that studies gender imbalances in literature, journalism and media, between 50% and 75% of both book reviews and reviewers are white men. Yet Wolff refuses to be burdened by things like historical and statistical facts. 
The irony, here, is that Wolff is a white man reviewing a book by a white man in a national newspaper founded and led by white men. His own piece is evidence to the contrary, as is the actual narrative: Because how many people have a Hollywood celebrity throw them a book party that lands them a book contract? Not many. But Morris did, in what Wolff hilariously calls "a minor reversal of fortune." 
Wolff's review would be infuriating if it weren't so flagrantly stupid.
h/t Fair.org