Sharon Jones' New Song Is Exactly Why She's a Soul Legend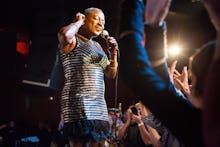 Sharon Jones and the Dap-Kings have been hustling for years trying to revitalize American soul music, but in that time they've never gotten the recognition they deserve. Though their releases on Daptone Records have earned a devoted following among soul lovers and critics, they've been largely ignored by mainstream institutions like radio, the charts and the Grammys. 
But their moment to shine may about to come. Shortly after earning their first-ever Grammy nomination and on the cusp of a mainstream revival in American soul music, Sharon Jones and the Dap-Kings have released a brilliant new song, "Little Boys With Shiny Toys." Listen:
This is a potentially huge moment for Jones. As Billboard pointed out when premiering the song, most of the soul America has been consuming in recent years has come from white British artists. Sam Smith, Amy Winehouse, Adele and Mark Ronson have all crafted blue-eyed soul that's done wonderfully on the charts, but has inadvertently pushed black American soul artists into the background.
It's a little-known fact, though, that Jones and the Dap-Kings were instrumental in starting the British soul invasion that, with Mark Ronson at No. 1 and Sam Smith at No. 8 on the American charts, is only building in steam. The Dap Kings played on six of the 11 songs on Winehouse's legendary Back to Black. Yet playing on such high-profile release did not give the band the bump they expected. 
With their new Grammy nod, though, and the overwhelmingly positive reception of their latest album Give the People What They Want, Jones and her band are due for a surge in popularity. God knows they have earned it.
h/t Billboard