America's Budding Marijuana Industry Is About to Get a Big Influx of Green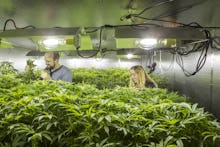 Paypal co-founder and Silicon Valley superinvestor Peter Thiel and his firm Founders Fund are pouring millions into a marijuana firm, suggesting that some of the nations shrewdest investors and businessmen  are seriously banking on continued legalization around the country.
The new firm, Privateer Holdings, encompasses three businesses, according to Wired. There's Tilray, a Canadian online medical marijuana distributor; Leafly, where you can review weed products and dispensaries; and Marley Natural, which will be selling marijuana products (and product) branded with the support of Bob Marley's family.
The background: Privateer, which the Verge described as "trying to professionalize the cannabis industry through the legitimizing powers of capitalism," was founded in 2011, but is already valued about $425 million. As of its last public disclosure to the SEC, however, the firm is still hoping to raise another $56 million. While its marijuana businesses are not yet profitable, they are generating revenue (which is more than many start-ups, even big ones, can claim.)
Founders Fund is a force behind some of Silicon Valley's biggest successes, including SpaceX, Airbnb and a little site called Facebook. The interest from Thiel and his associates is a sign that investors see marijuana as an untapped market, especially as more and more states legalize the drug.
"We do believe the end of prohibition is inevitable, and we believe this company is well-positioned to be a major player," Founders Fund partner Geoff Lewis told Wired.
What it means: Most of the attention on financial beneficiaries of legalization has been on governments — Colorado, for instance, brought in more than $36.5 million in 2014, its first year of legalized weed.
But behind all the talk of tax revenue is the opening for private companies to step in and profit, both off of marijuana itself and off of the infrastructure and culture to come. Privateer's companies — marijuana products, Marley-branded items, online reviews — are likely just the tip of the iceberg. Legal weed was already one of the country's fastest-growing sectors in 2013, expected to pass $2 billion in the U.S. If things keep going they way they're going, that figure could increase a hundredfold internationally.
More money invested means more support and more normalization: Pot becomes just another American industry. That shift will help push legalization movement forward, meaning more profits for everyone invested. That's what Founders Fund and others are betting on.