These Are the Golden Globe Nominees We Really Need to Pay Attention To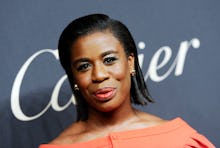 Forget about blizzards, prepare yourself for film awards season. With the Golden Globes and Oscars around the corner, everyone's ready to see who will be taking home the gold.
Just like every other year, there's a flurry of fierce competitors. However, there's a major problem with the nominees that many fail to notice: Diversity is still seriously lacking when it comes to the performers vying for some of the most prestigious honors in Hollywood.
While some of the films that depict minority narratives and actors that are from disenfranchised communities themselves may win, simply making it into the Golden Globe fray is worth noting. Check out these films and performers that deserve a closer look. 
Best Motion Picture, Drama
Selma
If you haven't already seen Selma, buy a movie ticket ASAP. Telling the story of Martin Luther King Jr. and his followers' march from Selma to Montgomery in a fight for suffrage, the movie is a much-needed history lesson for those who are unaware of the violent discrimination the black community faced even after the South was legally desegregated – and also a chilling reminder of many of the racial issues happening in our nation at the moment. 
The Imitation Game
In this biopic, Benedict Cumberbatch plays Alan Turing, a computer scientist credited with cracking the German Enigma Code during World War II and later prosecuted by the government he aided for being a gay man. The actor already paid homage to his character in an acceptance speech at the Palm Springs International Film Festival. While it's exciting to see how LGBT rights are progressing at the moment, it's also vital to remember those who were persecuted leading up to this movement. 
Who will probably win this award: Boyhood
Best Director, Motion Picture
Ava DuVernay, Selma
DuVernay made history by being named the first black woman nominated for the Golden Globe Best Director award. Before her, two black men were the only other black filmmakers who had received nominations, and  both lost. The Selma director has definitely made history with her nomination, but it's likely that Boyhood's Richard Linklater will take home the award for his film's 12-year span. But DuVernay's nomination is a step toward progress for filmmakers of color and particularly women of color.
Who will probably win this award: Richard Linklater (Boyhood)
Best Comedy Series
Jane the Virgin
The rookie CW show's nomination was a pleasant surprise. Following Jane and her friends and family after she is accidentally artificially inseminated, the show has gotten tons of love from critics. We should definitely keep an eye on the show as it finishes the rest of its first season. Jane the Virgin is one of the very few nominations that features women of color, let alone Latinas. 
Also a newcomer, Amazon Studios' Transparent has received accolades for its portrayal of a trans woman and her three adult children. There's a huge underrepresentation of well-written LGBT characters in Hollywood, let alone trans characters. Although Transparent is also going up against Orange Is the New Black, which also has Laverne Cox's trans character, if anything it's exciting to see two nominees that have this story in them. Now, if we can only get the drama nominees to this level. 
Who will probably win this award: Silicon Valley
Best TV Movie or Miniseries
The Normal Heart
The Normal Heart is a movie about the AIDS epidemic emerging in the gay community during the '80s. It does a sincere job showcasing both the emotions and fears that were running high during the crisis. Like The Imitation Game, it's an ode to LGBT history as society progresses toward equal rights. 
Who will probably win this award: True Detective
Best Performance by an Actor in a Motion Picture, Drama
David Oyelowo, Selma
Oyelowo's portrayal of Martin Luther King Jr. in Selma is powerful and dynamic. He's the only black man among his white competitors for the category of actor in a motion picture. We hope for more diversity, but as we know award shows tend to like their white guys. 
Who will probably win this award: Eddie Redmayne (The Theory of Everything)
Best Performance by an Actress in a Motion Picture, Comedy or Musical
Quvenzhané Wallis, Annie
This 11-year-old is nominated for a Golden Globe while most of us were just dealing with the beginning of adolescence when we were that old. Annie wasn't amazing, but it is amazing to see this talented young lady go up big names like Juilianne Moore and Helen Mirren. 
Who will probably win this award: Emily Blunt, Into the Woods
Best Performance by an Actress in TV Series, Drama
Viola Davis, How to Get Away With Murder
Shondaland's How to Get Away With Murder launched thoughtpiece after thoughtpiece on gay sex, but we can't forget Davis' stunning performance as law professor Annalise Keating. In a perfect world, Davis would win the Golden Globe after already winning at the People's Choice Awards. However, The Affair has garnered many critiques and will likely crown Ruth Wilson. 
Who will probably win this award: Ruth Wilson (The Affair)
Best Performance by an Actress in TV Series, Comedy
Gina Rodriguez, Jane the Virgin
Rodriguez may be a newcomer, but lots of the buzz around her CW show Jane the Virgin touts the young actress as a large reason why the series is so charming. The fact that the show is nominated for two awards (and this is the network's first time with nominees for the Golden Globes), is a really big deal.
Who will probably win this award: Julia Louis-Dreyfus (Veep)
Best Performance by an Actor in TV Series, Comedy
Don Cheadle, House of Lies
Like Oyelowo, Cheadle is up against a slew of white guys in his category. He'll likely be beat out by Jeffrey Tambor, whose portrayal of a transgender woman is getting rave reviews, which is another important role to bring to Hollywood in terms of minority narratives being told. But Cheadle's nomination is noteworthy nonetheless. 
Who will probably win this award: Jeffrey Tambor (Transparent) 
Best Performance by Supporting Actress in TV
Uzo Aduba, Orange Is the New Black
Aduba won an Emmy last year for her character Crazy Eyes in OITNB, and will most likely win the Golden Globe this weekend. Especially with Crazy Eyes' character development this past season, this win would be well-deserved for Aduba. 
Who will probably win this award: Uzo Aduba (Orange Is the New Black)
Animated Feature Film
Big Hero 6
With a biracial boy as the main character and a diverse group of friends that break gender stereotypes, Big Hero 6 is a fun watch while being totally subversive. Its title doesn't have the same kind of mass attention grab like The Lego Movie, but it should be at the top of people's queues. 
Who will probably win this award: The Lego Movie
As Hollywood slowly continues to diversify, we're excited to see awards going to people and films that have largely been shut out in the past. We'll see what Sunday night brings.