9 Awe-Inspiring Photos of Men Making History By Climbing the Hardest Route in the World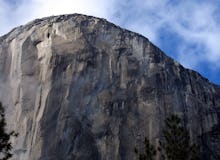 Two men are about to make history climbing a 3,000-foot vertical wall of granite on the monolith El Capitan in Yosemite National Park in California. As if that weren't enough of a feat, the two are throwing in an additional challenge: They're making the climb using only their hands and their feet.
At this point, 30-year-old Kevin Jorgenson and 36-year-old Tommy Caldwell are about halfway through the climb, which is considered to be one of the "largest and most difficult cliff-climbing routes in the world." They've been climbing for 10 days and expect the remainder of the climb to take another week.
If they make it, they'll be the first people ever to this route by free climbing. While they're not the first to climb the El Capitan, they're scaling the extraordinarily difficult Dawn Wall route — and they're documenting it.
So how exactly are they accomplishing this challenge? Well, admittedly, they are getting help – but only a bit. Other climbers have stopped by with provisions for them. The men are using solar power for their devices. And they have ropes, although they're only using them to protect from falls, not as climbing aids. They only have their fingertips to hang onto the "razor-sharp holds" with, and they've already ended up with cuts that have required tape, glue and rest days in their tents to heal.
But for Jorgenson and Caldwell, the climb has been a long time coming: The pair has been preparing for six years to scale the mountain, figuring out each and every move needed to scale the wall without equipment and accidents. They first tried to climb it in 2010, but storms stopped them a third of the way up. When they tried again in 2011, Jorgenson broke his ankle.
The third time is the charm: This trip started shortly after this Christmas and, so far, they've been more successful than ever before. Even if they don't make it to the top, their effort is one for the record books.
h/t Bored Panda