Tef Poe Is More Than a Rapper — He's Becoming the Voice of Ferguson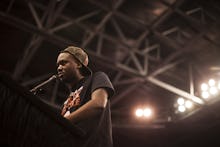 "I don't really remember days since August 9th. Everything's one big day for me," rapper Kareem Jackson, aka Tef Poe, told Mic. And it's easy to see how time can blur, considering all the St. Louis born-and-raised rapper and activist has done since the day Michael Brown was murdered. 
He arrived on Canfield Drive moments after Brown's body was finally removed and says he saw the street erupt in protest when a policeman's German Shepherd peed on the rose pedals marking where Brown had lain. Since, he's become one of the de facto authorities speaking for the voiceless in Ferguson. He's written op-eds for Time, several for the Riverfront Times and another for a local St. Louis paper. Al Sharpton praised him in an interview on MSNBC for his efforts to keep the protests peaceful. In October, he even traveled to Geneva with Michael Brown's family to address the United Nations Human Rights Council about the police brutality in Ferguson. And along the way, he's been recording and releasing some of the most groundbreaking and political hip-hop on the scene today. 
He's becoming a leading voice and symbol of the issues that Ferguson raised and America can't afford to let go. He's proving just how much music matters to the biggest social challenges facing our country.
"I would personally consider myself a sellout if I didn't contribute something greater to the situation," Tef Poe told Global Grind back in October. "Hip-hop sets the tone for the hood. In certain pockets of St. Louis, I have more power than [President] Barack Obama, so I have a responsibility."
Since then, he's used music to capture the frustration and pain his community has felt but has been unable to express to the powers that be. His most forceful moment came when he released "War Cry," angled as a "diss record" aimed at Missouri Gov. Jay Nixon. Inspiration for the song came from a moment of anger Tef Poe experienced weeks before its release in November, when he watched Nixon quote Tef Poe's speech at a mass protest service with Cornel West and NAACP President Cornell William Brooks.
"This ain't your daddy's civil rights movement," the artist said. But when Nixon tried to quote Tef Poe to legitimize his own actions, Tef wouldn't stand for it.
"Jay Nixon had the balls to go on TV and quote that," Tef Poe told Mic. "And when I saw that I was pissed because, I'm like, 'Man, you've already been very disingenuous about this entire process. Ultimately, you don't give a damn about us. ... I knew that if I did the song, that [Nixon] would actually hear it."
Tef Poe tore the governor to shreds on the vicious track, calling him and several other St. Louis politicians "cowards" and "slave catchers." "The system full of snakes; the governor can't fix it," he rapped, "With every breath of my body, it's fuck Jay Nixon."
"Me being a rapper, I don't have to be politically correct because I'm not a politician. I can get on a record and say, 'Fuck Jay Nixon,'" Tef explained. "I can hop on a record and express that anger that everybody else is feeling and do it in a manner that isn't corny and still has some integrity behind it."
Though he continued touring the country growing the movement, the rapper kept working on new music. He released another track titled "Gas Mask" on New Year's Eve, drawing attention to the absurd extent to which Americans tolerate police brutality and violence in their streets.
"I own two gas masks now. And that's not something I imagined would be necessary for me in this lifetime," he said, discussing the song's inspiration. "Around my city ... it's not irregular to see a young kid who's heading to a protest with a gas mask on his head cocked to the side like it's a hat. For me, the fact that's not ridiculous on a mass level ... how far gone are we?"
The track, with its grim beat and punishing delivery, captures the horror that comes with living in a militarized police state, which reveals itself every time it's threatened.
His music is intense and visceral, but it's carefully thought through. Tef Poe intends to make his audience feel the fear and discomfort that black people in oppressed communities feel. In this, he draws inspiration from one of his biggest role models, Martin Luther King Jr.
"The one thing that Martin Luther King mastered was knowing precisely when to make people uncomfortable, precisely when to push a little bit harder and knowing when to pull back," Tef explained. "We have to determine what we can do to make the system so uncomfortable so that it concedes to what we want."
Though the media storm surrounding the police brutality battles in Ferguson and elsewhere have died down, the fight is far from over. Similar incidents will undoubtedly occur again, and Tef Poe has vowed to keep pushing.
"I once believed in this term 'casual revolution' where you could casually change the world through your everyday interactions with other people and not disrupt your own life or society too much," he said. "I don't think I believe in that term anymore."
There is nothing casual about Tef Poe's activism. His life is what true commitment looks like; it's a testament to the power of art and the human spirit to address itself entirely to a cause — even one that sometimes seems nearly impossible to fix.