Artist Is Making Canada Pay Attention to Murdered Indigenous Women — One Tweet at a Time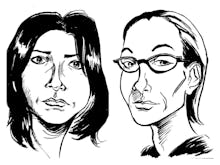 Evan Munday has an important message for Canada's politicians.
Every day since Jan. 5, the Toronto-based illustrator has been drawing a portrait of the more than 1,100  indigenous women who've gone missing or been murdered in Canada since 1980, then tweeting it at Canadian Prime Minister Stephen Harper.
Munday said he plans to keep going until he runs out of names — or the government takes action to address the problem.
"To me, this is one of the most important issues facing Canada," he told Mic. If he tweets every day, the project could go on for more than three years.
Here are the images so far:
In a televised interview on Dec. 16, CBC's Peter Mansbridge asked Harper about his management of the crisis, which has drawn international attention lately due to the efforts of indigenous activists. Aboriginal Canadians have been pressuring their government to comprehensively investigate these crimes for years.
"You've rejected [calls for an official inquiry] ... in the past," Manbridge said.
"Yeah," said Harper. "[It] isn't really high on our radar, to be honest."
It's a troubling dismissal, considering the stakes: According to a 2013 report from the Royal Canadian Mounted Police, indigenous women accounted for 16% of female homicide victims between 1980 and 2012, while making up just 4.3% of the country's female population.
It's a staggering disparity, compounded by the fact that homicide rates for these women have remained steady for the past 30 years, while non-aboriginal rates have gone down.
Munday, like many Canadians, has had enough. His portrait project first took shape on Dec. 6, when Canada recognizes an annual National Day of Remembrance and Action on Violence Against Women. On that day in 1989, gunman Marc Lepine entered an engineering classroom at Montreal's Ecole Polytechnique and murdered 14 women, screaming "J'hais les fémenistes [I hate feminists]" as he fired his weapon.
As a tribute to the victims, Munday sketched 14 portraits of the women and hesitantly posted them on Twitter. He worried they might seem "trite, or strange," but was encouraged when the reception was overwhelmingly positive.
The same impulse seized him when he saw Stephen Harper's CBC interview. "It was such a dismissive answer," Munday said, especially since "violence against women in Canada disproportionately impacts indigenous women."
He feels complicated about his role in the conversation, both as a non-indigenous person and someone who sees himself as having limited understanding of many aboriginal issues.
"I'm trying to be careful not to co-opt the discussion," he said. "If I do interviews, I want to make sure I also point to people who've been doing this work much longer than me."
People, he said, like Dawn Harvard, vice president of the Native Women's Association of Canada. Harvard was actually thrilled about Munday's project.
"It's gives me hope," she told Mic. "As a group, we've been trying to raise awareness among the Canadian public that this is indeed a crisis, and that having a national inquiry by the government is key to making a difference."
"That someone has this kind of self-initiated activity that draws attention to the issue is fabulous," she said.
Hopefully it makes a difference. Harvard says one of the biggest barriers to progress isn't people not caring, but being unaware of the issue. "When they find out [about it], they do want to help," she said, "so the more people know about it, the better."
Unfortunately, more people isn't necessarily enough in this case. Stephen Harper has the power to make a move at this point. Otherwise, the tragedy will likely only get worse.
Follow Evan Munday on Twitter at @idontlikemunday.