Driving While Transgender Just Became a Crime in Russia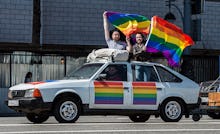 The Russian government has doubled down on its discrimination against LGBT people. Now, in addition to its "LGBT propaganda" law, the country will no longer allow transgender people to obtain driver's licenses. 
The move has been touted as part of an effort to reduce driving accidents, the BBC reports. Officials say road accidents have been on the rise and that "mental disorders" are to blame; that includes fetishism, exhibitionism, voyeurism, compulsive gambling and stealing. In response, they've decided to strengthen what they've determined are medical factors precluding individuals from driving. 
Of course the law is based on one huge lie. What Russian officials fail to understand or choose to ignore is the same thing medical experts have been saying for some time now: Being transgender is not a mental disorder. 
The official decree was made public this week after Russian Prime Minister Dmitry Medvedev signed it on Dec. 29, according to Time. The restriction effectively adds a whole new layer of bigotry to the list of indignities LGBT people in the country already have to endure. 
Unfortunately, these measures dovetail with an increasingly hostile climate for LGBT Russians.
According to a June 2014 report from Human Rights Watch, the adoption of laws sanctioning "LGBT propaganda" has coincided with a spread of violence and harassment against LGBT people. The organization also cited an anonymous survey conducted by the Russian LGBT Network, which highlighted issues of discrimination during 2013. More than 50% of the survey's respondents said that they endured psychological abuse, and as many as 15% said they'd been physically attacked. In addition, the group Occupy Pedophilia has released multiple disturbing videos in which they assault or torture LGBT people, some of whom they kidnapped. 
As for the new anti-trans driving restriction, the Association of Russian Lawyers for Human Rights called it "discriminatory" while Russian psychiatric expert Mikhail Strakhov told the BBC that the definition of "personality disorders" was too vague, and some disorders wouldn't prevent a person's ability to drive safely. 
Not allowing transgender people to obtain drivers licenses is more than a dangerous restriction on basic civil rights, however. It also sends the very clear message that the Russian government thinks this community does not deserve the respect and dignity afforded to their cisgender peers.