Heartbreaking Photos Capture the Humanitarian Crisis the World Forgot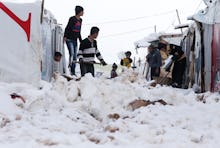 Much of the Middle East is facing its worst winter weather in a decade, making life hell for the many refugees who fled Syria amid war and chaos to live in neighboring countries like Lebanon and Jordan. There are about 1.1 million registered Syrians who have fled to Lebanon alone, according to Al Jazeera.
Syrian refugees are facing freezing temperatures and snow storms, braving multiple feet of snow despite living in tents with very little resources. While there have been at least four refugee deaths in Lebanon so far, that toll is expected to rise as temperatures stay low and food and other resources grow scarcer. 
There has been some outside help: The UN is distributing blankets and information about how best to use stoves and other heating equipment to stay warm, but it's nowhere near enough for the many tent city dwellers that aid organizations know about, let alone the tens of thousands outside the camps.
It's a crisis that's gotten little media coverage. That's partially because of the news cycle's short attention span but also because it unfortunately seems as though there are a lot of tragedies competing for attention lately. But that doesn't make the situation for these Syrians any less dire.
Take a look:
h/t Vice