Gunmen in 'Charlie Hebdo' Massacre, Paris Market Siege Killed by Police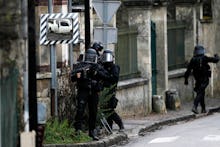 Update, 11:57 am ET: Reuters reports that at least four hostages were killed in the siege on the kosher supermarket in eastern Paris.
Update, 11:33 am ET: Three hostage-takers in two hostage situations in France have been killed, according to the most recent reports.  The two men believed to have carried out an attack on Charlie Hebdo were killed in a police assault in the building where they took at least one person hostage.
Another hostage taker was killed in a police assault in eastern Paris where several people were held hostage in a kosher supermarket. French authorities believe the hostage-takers in Paris were part of the same terror cell as the Charlie Hebdo gunmen.
According to the AFP, the suspects "came out firing on police."
Reuters, citing Le Monde, reports that the hostage taker at the kosher supermarket siege in eastern Paris, has also been killed by police.
Update, 11:21 am ET: Multiple news outlets report that hostages have been freed from the kosher deli where gunmen had taken at least five people hostage:
Update, 10:58 am ET: Several rounds of automatic gunfire rang out, accompanied by loud explosions, at a print works north of Paris where security forces had encircled the two suspects in the Charlie Hebdo killings and a hostage, a Reuters correspondent reports.
Smoke came from the building in an industrial zone near the town of Dammartin-en-Goele. Earlier, at least four armed security force members were seen on its roof. 
Update, 10:30 am ET: According to French police, Amedy Coulibaly and Hayet Boumddiene, the hostage takers in a kosher market in southern Paris, have threatened to kill their hostages if police attempt to storm the printing house where the Kouachi brothers are holed up.
Update, 10:25 am ET: The Washington Post has created a detailed map of the locations of the two hostage situations on the outskirts of Paris. The Kouachi brothers, believed by authorities to be part of the three-man team who killed 12 people in a shooting assault on satirical magazine Charlie Hebdo on Wednesday, are holed up with hostages in a printing house near Charles De Gaulle Airport in the town of Dammartin-en-Goelle; the second hostage situation, at a kosher grocery store in the Porte de Vincennes neighborhood in Paris, is believed to be orchestrated by Amedy Coulibaly and Hayet Boumddiene, who are allegedly responsible for the fatal shooting of a French policewoman on Thursday.
Update, 10:10 am ET: Police are helping people leave the area around a besieged kosher supermarket in eastern Paris, according to the BBC.
Update, 9:39 am ET: Police have ordered the closure of all shops along the Rue des Rosiers in Le Marais, a predominantly Jewish neighborhood in central Paris far from the locations of both hostage situations but only a kilometer (0.6 miles) away from Charlie Hebdo's offices, according to the Associated Press. Le Marais, a major center of the Parisian Jewish community since the late 19th century, is home to many art galleries, fashion houses and approximately 40% of Paris' LGBT-oriented businesses. On a Friday afternoon, mere hours before the Jewish Sabbath, the Rue des Rosiers would typically be crowded with shoppers.
Update, 9 am ET: A police official told the Associated Press that the man who has taken at least five people hostage in a kosher market in Paris appears linked to the Charlie Hebdo newsroom massacre that left 12 dead on Wednesday
Paris police released a photo of Amedy Coulibaly as a suspect in the killing Thursday of a policewoman, and the official named him as the man holed up in the market. A second suspect, a woman named Hayet Boumddiene, is the gunman's accomplice.
Boumeddiene, who has just been named by the police as a suspect in the killing of a policewoman on Thursday, is the former partner of Coulibaly, according to Le Monde.
Reuters just upped the number of hostages to six:
The French Interior Ministry disputes the AFP's report:
Update, 8:12 am ET: There's now a second hostage crisis unfolding in France. France's anti-terrorism prosecutor says a gunman has taken hostages at a kosher market on the eastern edge of Paris. 
A police official said there are multiple hostages and wounded at the scene. French President Francois Hollande ordered the country's top security official to the scene, an official in the presidency told the Associated Press.
The gunman, who is also suspected of killing a policewoman in a shooting in Montrouge, south of Paris, on Thursday, is reportedly "a member of the same jihadist group as the two suspects" in the Charlie Hebdo massacre, a police source told Reuters. 
The two suspects are currently a hostage in printing house in a small town near Charles de Gaulle airport.
You can follow the new siege in Paris on the France 24 livestream:
Original story: The new hostage crisis comes as the two brothers suspected in a newspaper terror attack were cornered inside a printing house northeast of Paris on Friday, taking a hostage and telling police they "want to die as martyrs," a French lawmaker told the Associated Press.
Earlier, police had chased a vehicle at high speed along a main road heading towards Paris as one of France's biggest security operations in recent times unfolded. Reuters reports that gunshots rang out and the suspects abandoned their car in Dammartin-en-Goele, a small town of about 8,000 residents near Charles de Gaulle airport. 
 French anti-terrorist police have sealed off the town in an effort to corner and apprehend the two suspects.
Police trucks, ambulances and armored vehicles descended on the area close to Paris's Charles de Gaulle airport after the suspects took refuge with at least one hostage in a building on an industrial estate, according to police sources.
Authorities evacuated a nearby school around midday Friday after the suspects agreed by phone to allow the children safe passage, town hall spokeswoman Audrey Taupenas told the Associated Press.
"They said they want to die as martyrs," Yves Albarello, a local lawmaker who said he was inside the command post, told French television station i-Tele.
The two suspects, Said and Cherif Kouachi, are French citizens of Algerian-origin resident in Paris. French media say Cherif, 32, was convicted of terrorism charges in 2008, and a U.S. official said both brothers were on the American no-fly list. A senior Yemeni intelligence source told Reuters one of the two was in Yemen for several months in 2011 for religious studies.