GOP Presidential Hopeful Mike Huckabee Says Jay Z Acts Like Beyoncé's "Pimp"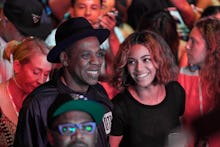 Former Fox News host and likely 2016 Republican presidential candidate Mike Huckabee says Jay Z is "crossing the line from husband to pimp by exploiting his wife as a sex object."
Huckabee, who also ran in 2008, has a book coming out Jan. 20 called God, Guns, Grits and Gravy. According to U.S. News and World Report, the book includes a passage on Beyoncé, her career and marriage to fellow hip-hop icon Jay Z.
First describing the couple's memorable January 2014 Grammy Awards opener as public "foreplay," Huckabee shares his bizarre "reaction" to it.
"Why? Beyoncé is incredibly talented — gifted, in fact," he writes. "She has an exceptional set of pipes and can actually sing. She is a terrific dancer – without the explicit moves best left for the privacy of her bedroom. Jay Z is a very shrewd businessman, but I wonder: Does it occur to him that he is arguably crossing the line from husband to pimp by exploiting his wife as a sex object?"
Beyoncé, who Huckabee all but calls a prostitute, has been married to Jay Z since 2008. They performed their hit "Drunk In Love," which was featured on her album, not his.
Huckabee likes to play the bass guitar, but he is no music critic. He is also a white, former governor of Arkansas who in less than 70 words shows why many voters consider the GOP hopelessly stuck in the past. It would take at least a few thousand more words to push halfway through all the hideously offensive stereotypes and racism peddled in that single, shocker of a paragraph.
It's important to remember that Huckabee, though he might be a contender to win the 2016 nomination, is no fringe candidate. He won the party's 2008 Iowa Caucus and had his own show on Fox News until recently leaving to begin his campaign. 
That he thinks this way is troubling enough. His calculated decision to feature these vulgarities in his pre-campaign book speaks to a more concerning belief that the "message" therein will resonate with GOP voters. For a party — and country — still grappling clumsily with issues of race and women's rights, that should be the most upsetting part.