One Amazing Mash-Up Shows Just How Formulaic Country Has Become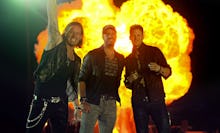 If you've listened to country on the radio recently, you know how bro-y the genre has gotten. It's become a bland and formulaic mesh of July nights with girls in skintight denim shorts sliding into trucks and just chilling it. But few likely realize just how bad it is.
It turns out some of the No. 1 tunes from the past few years don't just share similar elements, many of them are essentially the exact same song. The following mash-up by Greg Todd, a Nashville songwriter merges six of country's biggest hits from the past two years to create a single Frankenstein bro country monstrosity that is disturbingly catchy. Take a listen:
Todd had to tweak the key and tempo for a few songs to fit them together in Pro Tools. But mostly "Sure Be Cool If You Did" by Blake Shelton, "Drunk on You" by Luke Bryan, "Chillin' It" from Cole Swindell, "Close Your Eyes"by Parmalee, "This is How We Roll" from Florida Georgia Line and "Ready, Set, Roll" by Chase Rice fit together like cold Budweiser fits in a koozy.
Four of the six were No. 1 on the Billboard country charts. Parmalee is currently No. 6 and rising on Billboard's Country airplay chart and "Ready Set Roll" peaked at No. 5. But don't let the different chart positions fool you: They're all No. 1 at heart. Because they're all the same song.
Cole Swindell has said he felt "Chillin' It" was that song that "could break [him] as an artist." "I didn't know it, but I believed it." And sure enough, playing a song that's exactly like the rest of the country music's best is a pretty good way to be sure.
Florida Country Line is equally "proud" of the masterful composition that is "This Is How We Roll." 
"We're really proud of that song. It's just an anthem of life, really, and how you go about your life," they said.
But it isn't entirely their fault. Writing songs that artists know will guarantee them a hit is becoming much more of a necessity these days in Nashville, as increased economic pressures on songwriters demand hits. "As a creator, it's not the perfect environment for creation," Nashville songwriter Jim Reilly said according to Rolling Stone. "It's Music City, but it's really Music Business City. There's not a lot of people who've been doing it long who aren't really hollow and bitter, because that's kind of what it makes you."
But unfortunately, country is not the only genre suffering. The music industry as a whole is pushing music that's infinitely derivative of previous hits in order to guarantee success. And unless it gets an incentive not to, the music industry will continue along this path, writing the same song over and over again. It's really up to the consumers to support the music they want to hear. If listeners want something new, they should stop buying the old. We don't have to roll this way anymore.