5 Things You Need to Know About Obama's Historic Plan for Free Community College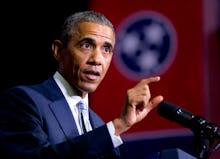 President Barack Obama rolled out the details of a plan Friday that would make two years of community college free for millions of American students who meet a series of minimum standards. The goal, Obama said is to make higher education as "free and universal as high school is today."
The White House estimates that 9 million students could benefit from the program. According to internal calculations, full-time students would save an average of $3,800 in tuition annually. To qualify, students would need to maintain a 2.5 grade-point average and steadily accumulate credits leading to a degree or certificate. Colleges would have to keep certain standards to stay eligible for the federal (75%) and state (25%) government subsidies.
Administration officials say they have not yet worked out how they will fund the program but expect to release more details before Obama's State of the Union address Jan. 20. Here are five things you should know about the Obama's plan: 
1. It would cost an estimated $60 billion over the next decade.
And for that reason, the plan has virtually no chance of ever coming to fruition. The new Republican-controlled Congress has shown a willingness to work with the White House, but this would be a bridge too far. Unless Obama is willing to make some kind of major concession, like further loosening restrictions on big banks, it's hard to conceive of a scenario in which House Speaker John Boehner (R-Ohio) would even allow a vote on this kind of federal spending package. 
The prospects are not much better in the upper chamber. Sen Bob Corker (R-Tenn.), who flew down to Friday's speech with Obama aboard Air Force One, said, "Oh no, no, no, no, no," when asked by reporters if he would vote for the plan. 
2. To be eligible, students must stay active and maintain a 2.5 GPA. 
Students are required by law to enter high school after finishing junior high or middle school. The "universal" nature of free community college extends only to the universe of responsible students. The benefits proposed today would not be extended to individuals with anything worse than a C+/B- average.
The White House also says students must attend classes on "at least a half-time" basis, which means picking a field of study, sticking to it and completing one's degree or certificate in a timely manner. 
3. The quality of community colleges would improve.
Obama highlighted two requirements for community colleges, which stand to gain in both students and funding if they can qualify for the program.
Per the White House, community colleges must offer either "academic programs that fully transfer credits to local public four-year colleges and universities" or "occupational training programs with high graduation rates and lead to in-demand degrees and certificates." 
The takeaway: The federal government is not going to pay for 75% of your liberal arts degree, unless you are using it expressly to become a teacher or public servant. The goal is to put people in skilled jobs and, in doing so, raise wages across the board. 
4. For-profit colleges believe they could benefit from the program. 
A Wells Fargo report, written for "institutional investors" in for-profit colleges and shared with Mic early Friday, says those companies would get a boost from the program in the unlikely event Congress signed off on funding it. 
Here is their assessment. "For-profit" schools are "FPs" and community colleges are "CCs." 
To the extent that the new policy encourages junior college attendance, four-year Fps ... are likely to benefit as institutionally they are the most consistent and generous in their acceptance of CC transfer credits; and students transferring with two years of credits are the most persistent and thus attractive. Two-year FP vocational schools already compete with lower-priced CCs on quality and substance (better equipment, smaller classes, higher customer service, better job placement effort,) but to the extent the initiative encourages broader enrollment, capacity constraints at CCs will likely push students to more-convenient and flexible FP programs. 
In short, "for-profits" believe that any jump in college enrollment increases their potential marketplace. Their willingness to accept credits from schools that might be rejected by more established institutions means they stand to benefit even more than traditions four-year schools. They also believe that, if the expected influx of students occur, community colleges will not be to accommodate the new demand, which again means more potential customers.
5. Going to college would become a lot less financially risky.
Student debt in the U.S. stands at a whopping $1.2 trillion. The "average borrower," according to the Institute for College Access and Success graduates owing more than $25,000. After home mortgages, there is no greater source of debt in the American economy. If the White House program goes through, students would have greater incentive to bypass the first two, very expensive years at a traditional four-year college. (Community college has always been cheaper, but a perceived deficit in quality has given bigger universities a reason not to accept credits obtained there). 
Two years of free school would also allow students who do not want to continue their education to enter the improving job market without carrying a whole load of debt. 
In fact, community college enrollment has fallen in concert with a growing job market:
What happens next? Obama says he will release a more detailed explanation of the program and how he plans to pay for it in the coming month when the White House also proposes a new budget.
Still, it will take considerable concessions for the Republican Congress to bite. Unless Democrats are willing to pay, American students are unlikely to see tuition-free college anytime soon.