One Chart Reveals The Dark Side of Today's Stellar Jobs Report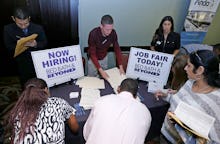 The economy added 252,000 jobs in December, according to the Bureau of Labor Statistics' new jobs report, capping off what Bloomberg called the "best year for the labor market since 1999." But it wasn't all good news.
Despite the growing job numbers and unemployment rate that declined to 5.6%, the December report also showed a surprising decline in wages. The average worker earned $24.57 an hour last month, down 5 cents from November.
While the jobs report had other big news (like that unemployment dropped to its lowest level since the 2008 recession), the labor participation rate also shrunk to 62.7%, matching its lowest point since 1978. The relatively low unemployment rate isn't as impressive if it's the product of people leaving the workforce entirely. (How big a role the labor participation rate played is not yet clear.)
The background: Wage growth is vital for a growing economy, since it gives workers more money to spend (thus making things grow even more). A continued drop could be a bad sign, despite good-looking employment numbers.
That's because, if the economy is growing, wages should be rising. Employers face more competition to keep and recruit new workers, as Business Insider explains, which drives wages up.
Between the wage drop and the workforce participation rate, the new jobs report isn't the unmitigated success it could have been. The real test is how both numbers trend in the months to come.
Still plenty of hope: A month of dropping wages, though, doesn't mean the recovery is screwed. There's no way to tell what wages will look like over the next few months, and some economists are optimistic despite the drop.
"Faster wage growth remains the missing piece of the puzzle, but with the unemployment rate declining further and 21 states raising their minimum wage starting this month, wages should accelerate as 2015 progresses," wrote PNC Chief Economist Stuart Hoffman, per Forbes.
The recovery has been a long, troubled and unequal one. But it's not over yet, and after a generally positive 2014 there's still time for things to get better.