Mitt Romney Is Seriously Considering Running for President Again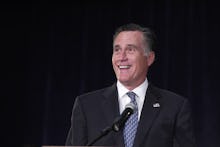 Mittmentum!
2012 Republican presidential nominee Mitt Romney told a group of donors in Manhattan on Friday that he was considering another bid for president, according to the Wall Street Journal. 
"Mr. Romney made the remarks during a session Friday afternoon with a few dozen top GOP donors in midtown Manhattan, according to people present," the Wall Street Journal reported. "The former Massachusetts governor didn't give a timetable for making a decision about another White House run, but he cited unrest overseas as one of the reasons he's considering another campaign. He also mentioned the long-term health of the economy."
More details of the meeting began trickling out after the Wall Street Journal's report:
A potential Romney candidacy has been a source of will-he-won't-he speculation for months, with Romney feeding the flames by subtly indicating that a run wasn't entirely out of the question. In August, he seemed to leave the door open to reconsidering a potential run. "Let's say all the guys that were running all came together and said, 'Hey, we've decided we can't do it, you must do it.,'" he told radio host Hugh Hewitt in August. "That's the one of the million we're thinking about."
Romney's entrance into the race would immediately upend the nascent Republican field. As the Wall Street Journal notes, "Many major GOP donors have been waiting to see what Mr. Romney will do before committing to other Republicans who are taking more aggressive steps to launch White House candidacies."
His move comes as Jeb Bush ramps up his potential run, having just launched a political action committee and donor tour this week. If Romney does end up throwing his hat in the ring, he and Bush would compete for many of the same donors among the Republican establishment.
It's going to be a fun campaign.