Malia Obama's Pro Era Selfie Reveals a Striking New Trend in American Hip-Hop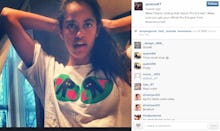 Instagram
It's a new day in the White House. Last week, the Internet buzzed with what appeared to be a leaked selfie of Malia Obama wearing a T-shirt for Pro Era, a Brooklyn rap crew that gained prominence with the 2012 release of 1999, a mixtape by Joey Bada$$.
The first daughter was praised for her taste in music across the Web, while the tone of coverage around the incident was generally good-natured and humorous. But let's be serious for a moment. Let's look at how, before the current administration, the role of hip-hop in U.S. politics was mainly that of a convenient scapegoat — a racialized distraction used by politicians to deflect responsibility for real inequalities on their watch. 
Let's talk about how hip-hop never really belonged in the White House, and how that might be changing now.
A long, dark history. As recently as 1992, none other than Vice President Dan Quayle was openly campaigning to get Tupac's 2Pacalypse Now album taken off shelves.
"There is absolutely no reason for a record like this to be published," he said at the time, according to ABC News. "It has no place in our society." His reasoning? A 19-year-old named Ronald Ray Howard was allegedly listening to a tape of the album when he shot and killed a Texas state trooper that year. 
This wasn't the only time politicians blamed hip-hop for problems that hip-hop did not cause. In fact, shaming the genre has been one of the few causes that's successfully crossed the political aisle. Tipper Gore, wife of future Democratic Vice President Al Gore, spent much of 1992 bemoaning gangsta rap, testifying before Congress about its perceived ills and negative impact on society.
And in a now-infamous political moment, presidential candidate Bill Clinton used the Los Angeles riots not as an opportunity to condemn police brutality, but to criticize Sister Souljah, a New York rapper who made controversial (albeit rhetorical) remarks about "killing white people" as an alternative to high black murder rates.
But all this criticism was directing attention away from real issues. The troubling irony is that such grandstanding obscured some very serious problems. Mass incarceration saw its sharpest growth through the 1990s, spurred by the overwhelming imprisonment of black males. A heavily racialized drug war was also in full swing, and police brutality sparked one of the deadliest American uprisings of the 20th century.
Yet here were these politicians, talking as if the real problems were song lyrics and things rappers said. Even George W. Bush, when asked in 2010 to share the worst moment of his presidency, singled out the time Kanye West accused him of not caring about black people (possible runners-up may or may not include 9/11 and Hurricane Katrina).
But Malia's selfie is a sign of change. It symbolizes something quite simple and profound: Hip-hop isn't just a scapegoat for politicians anymore.
Even if it's only being embraced by a teen in the White House, at the very least, the genre has a place there. The photo also stands alongside other symbolic steps, like President Obama's friendship with with Jay-Z, Common's recent visit and this this being the first administration to host an actual rap performance.
Malia's selfie symbolizes that hip-hop has a space in American politics after all. It's gained a more prominent voice — which is, of course, what the movement has always been about.
The first daughter rocking a Pro Era tee doesn't mean that hip-hop lyrics aren't still used against criminal defendants in court. Her father hanging out with Jay-Z doesn't mean his policies are adequately tackling issues of racial inequality. Recent claims that teaching hip-hop in Arizona schools illegally promotes ethnic solidarity show that we still have a long way to go on the education front. But it's a start, no matter how small.