Meet the Blogger Who Faces 1,000 Lashes for "Insulting Islam"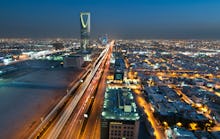 The Internet rallied the support of millions for freedom of speech after an attack on the offices of French cartoonists on Wednesday. But half a world away, another provocateur faces a potentially deadly punishment for speaking critically about Islam.
Saudi blogger Raif Badawi, a 30-year-old writer, activist and creator of the website Free Saudi Liberals, received the first 50 lashes of a 1,000-lash sentence in a public demonstration in the coastal city of Jeddah after evening prayers on Friday. His crime? Criticizing Saudi Arabia's powerful religious clerics.
The case dates back to June 2012, when Badawi was arrested on charges of insulting Islam on his website, which has since been shut down. According to Human Rights Watch, he deemed Riyadh's Imam Muhammad ibn Saud Islamic University "a den for terrorists" and criticized the nation's powerful Islamic clerics. Badawi was also later charged with apostasy, a crime that merits automatic capital punishment if the accused is convicted.
Following his arrest, Amnesty International designated Badawi a prisoner of conscience, "detained solely for peacefully exercising his right to freedom of expression." According to Philip Luther, director of Amnesty International's Middle East and North Africa program, "Even in Saudi Arabia, where state repression is rife, it is beyond the pale to seek the death penalty for an activist whose only 'crime' was to enable social debate online."
In December 2012, a district court in Jeddah accused Badawi of "setting up a website that undermines general security," "ridiculing Islamic religious figures" and "going beyond the realm of obedience," eventually sentencing him to seven years in prison and 600 lashes. In a show of macabre "leniency," the apostasy charge was vacated, sparing him the death penalty. Shortly thereafter, Badawi's wife and children fled Saudi Arabia and obtained political asylum in Canada.
After appealing the conviction, Badawi was re-sentenced — to 1,000 lashes and 10 years in prison, as well as a $267,000 fine. According to witnesses, Badawi remained silent as he was flogged. He is scheduled to face the same 50-lash sentence every Friday for the next six months.